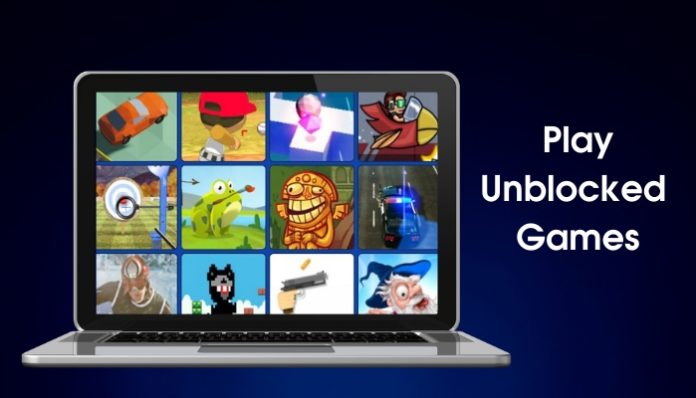 Usually, educational institutions such as schools and colleges have a restriction on the sites which are available for browsing. Most sites such as movie sites, gaming sites, etc. are prominently blocked. So, kids being kids get bored and lookout for ways to find new unrestricted sites. Also, school administration is always ready to secure sites as soon as they come to know of it. They may use Internet filters to block or backlist some gaming websites. However, the good news is that there are various sites available which list unblocked games. In short, unblocked games refers to games that are still available in some internet restricted places such as schools, colleges, offices, and even other areas such as hospitals and other public places. Herein you can play many unblocked games online and have fun by just visiting their home page. Their collection of games is vast and extensive. So, pick any game and enjoy playing it without any restrictions. This unblocked game websites use Internet Proxy websites and so may remain undetected for a long time. The list below has some of the best unblocked games today, which are still not yet placed under ban or any restrictions.
Best Unblocked Games to Play Online at School, Workplace, Home
As the name itself suggests, if you are bored and need to do something to pass the time, then a visit to this site is worthwhile. With the press of a button, you will immediately be led to a random game. It is a fantastic site to visit and have fun playing games while at school.
Another great site to do time pass by playing games is the Eunblocked.com website.  Herein you get to choose from a broad genre such as Action, Strategy, and adventure games. It is one of the best websites to play unblocked games. The games are very addicting as only the best and top-rated unblocked games are available in this site. With a recent redesign of its website, it offers a great choice of games to play.
If games like Pokémon, Minecraft, happy wheels are your favorite, then this is the site you need to visit.  It also has several Mario Spinoff games for Mario game lovers. In addition to the games, there are still a wide variety of other games available. So, you can pick and choose and then play. A point to note is that these games need Adobe Flash Player.  So, make sure that it is already downloaded to the device. This is a safe and secure site and can be used while at school or in the workplace.
If you feel guilty that you are playing games while at school, another great site is Hooda Math. Here in Maths, geeks will love this site since it has mind puzzling games based on mathematics. So, you can have a great fun time and do not feel guilty about misusing your time. You can improve your mathematical skills by playing these unblocked games online. There is an option to select the game level based on your intellectual capabilities. It has been found that many Maths teachers have been using this site to teach maths in a fun and exciting way.
This is another excellent website that lists games in Rpg, racing, and puzzles. There are more than 100k games available. That is not all. A unique point of this site is that all your gaming achievements are saved, and the data is available for the whole community of gamers to see. There is a login as well as a guest member option to choose from.
This is an ideal and best unblocked game to play if you are in office surroundings.  This has both free and paid variety of games in almost all categories. However, the user needs to register first to play the games on this site. This is ideal for office goers as the categories such as adventure family and kids are sure to appeal to them. In addition, being adults, the user interface and other gaming specifications are sure to appeal to them. The best thing is to create or apply for the account at home, and then you can login from other places such as the office or college.
Do not be misled by this site's name. It is an abbreviation for Free Online Games. This site has a lot of great games to play in various categories. There is adventure, flying, puzzles, and some games, which are girl-centric too. To make the choice of games easier, the games are divided into two broad categories: the top-rated games and the second one is the most played games. So, choose accordingly and enjoy your time playing games, the fun way.
Another great site to play in office confines is Fun blocked. This site comes with a straightforward user interface and can be safely visited either from your office or school location. Plus, there is no requirement to sign up or any complete any formalities. This is a safe and secure game built by a gamer and has many games to display.
This site mostly avoids being blocked either at school or office because it has many educational games. As the name suggests, the games have been created by a developer at MIT. So, you can be rest assured a play the unblocked games safely and confidently.
Last but not least, the Miniclip site is another excellent choice to play unblocked games.  There is a wide variety of games available on this site, and the best part is that there are more than 20 languages to choose from. Using the website directly, you can play the free games available by logging in using the Facebook account. So, go ahead and enjoy your time by means of a single click.
Some More Unblocked Games Sites for 2021
Here is a complete list of best unblocked game sites that you can play when you're board at School, Workplace, Home
| | |
| --- | --- |
| UnblockedGames666 | https://unblockedgames666.com/ |
| UnblockedGamespod | https://www.unblockedgamespod.com/ |
| BestUnblockedGames66 | https://sites.google.com/site/bestunblockedgames66/ |
| UnblockedGames24h | https://sites.google.com/site/unblockedgames24h/ |
| UnblockedGames66333 | https://sites.google.com/site/unblockedgames66333/ |
FAQs:
Conclusion:
In addition to the above, there are other games such as Crazy Taxi, HTML 5 Games, etc., which can be played. So, do not be disappointed if you visit one site and do not find any unblocked games. There are many alternative and cool unblocked game websites available online. All you need to do is look around by browsing, and you are sure to find one.
This article is not meant to encourage the misuse of your valuable time while at educational institutions or at your workplace. We wish to promote high regard for education and the sanctity of work. However, a break from the stress is very much needed, and playing a game is one great way to reduce the stress. It is like a welcome change that makes a person refreshed and ready to study or work. As an end note, we wish to reiterate that games are only a past time only and play games only when you have some free time to spare.