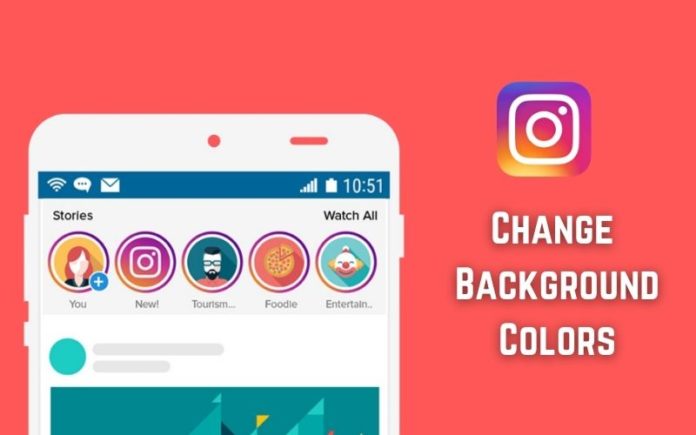 Instagram stories are in top priority whether you use a business account or a personal account. Instagram story is the solution for many things. You can use a story to directly connect to your followers, alert them about your new post or reel, share a photo or update of significance, or repost from other profiles. Stories are beneficial for business.
Features like adding stickers or changing font size are readily available with corresponding icons in the Instagram story. But changing the background color in Instagram Story is not very handy. This is new to many people still. Most people use the default background Instagram chooses as this method is not available at first glance. The gradient color looks fine in your background but sometimes increasing your creativity is not harmful.
It is important to master the art of changing the background color on your Instagram Story so that your stories stand out, bringing more views and engagement. And the best part is it is so easy that you will wonder why you did not know about this before.
Why does one need to change the default color on Instagram Stories' background?
Your friend has tagged you in a story, and you want to re-share it on your Instagram stories. You select Instagram's "Add this to your story" option. Instagram automatically picks a color for you from the tagged image and makes its background. You may not like the color or background Instagram chose for you.
The same thing happens when you upload a photo in your Instagram story that does not fit the whole screen. The app selects a solid color or a two-shade gradient for you. Unfortunately, it always doesn't match your brand color or preference. In this case, you remain unsatisfied with the background you had to upload most of the time. So, we have the solution for you.
You can personalize, create your own designs on your Instagram Story, and get rid of the boring default background. This process is super easy and has multiple ways of doing so.
How will you change the background color of your Instagram Story?
We have got some easy and unique solutions for you. These will not consume much of your precious time and give you a better reach and audience.
Here are 3 tricks that will help you to Change the Instagram Story Background Color
Follow these options to give your Instagram stories a whole new and different look.
Changing into a solid background
Upload any background from your choice from your camera roll
Add any color tint of your choice to your Instagram Story photo
Note: You may not find the feature or icon in view at first. Go to your device's Google Play Store or App Store depending on the system. Then update the Instagram app.
Putting a solid color to your Instagram Story Background
You can change your background of your story to any solid color by following these steps:
First, upload any photo of your choice from your gallery. This should be put in the Stories feature on your Instagram app.
Tap on the pen icon.
Select the color of your choice using the color dropper tool. You may select from the default color options.
Now you need to tap, or press, or hold the pen or eraser tool.
Now long press and hold the middle part of your background.
Note: This is also the perfect way of creating your Instagram highlight covers. Upload the image of your choice (it is usually an icon, for example, an airplane to symbolize traveling). And you may put on a background color according to your brand.
Repeat for each highlight cover.
Add a photo of your preference over your new background
Follow the given steps to add a photo to your new created background.
Open your gallery
Select the image you want to add.
Click on the 'Copy photo' option. It will be there at the menu at the bottom of the screen.
Return to Instagram, where your story in the making is still on.
Click on the 'Add Sticker' option of your copied image from the bottom corner.
Changing Your Instagram Story Background from Your gallery
You have more options for changing the story background. You can use any specific background with more design and make it your own. Follow the steps to create your background.
Open a design tool of your choice, for example, Easil or Canva or Photoshop
Design the background in the pattern you desire
Now, download the image in the internal storage of the phone
Go to Instagram, and upload it to the Stories
Place stickers, hashtags, Gifs, text, and emojis over the background to personalize and make it even more attractive!
You may also add another image in the story.
Note: You may love your new story and want to keep it in your profile. Click on the story after you upload it. Then, go to the bottom in the icon label "Highlight." This will allow you to add to your previous highlights or you may create a new one.
Adding a Color Tint to Change the Background look of your Instagram Story
Upload or take any photo or video or quote in your Stories
Now, tap on the Pen icon at the top
Select the color tint of your choice from the given options. You do this by using the color dropper tool available.
Tap on the highlighter icon
Now you have to long-press on your background. This entirely depends on what version of the app you are using at present.
Tap or long-press a again to make a darker color tint
Tap or long-press a again if you want to create a solid color.
Conclusion
You have plenty of options for changing your Instagram Story background color. You can nail with your personal and business account and reach more followers every day. Lighting up your Instagram story or making it more creative and attractive will be a plus point for you in numerous ways. This will make it easy for you to promote your brand better. You can have a unique and cohesive style with a bit of tint of colors.