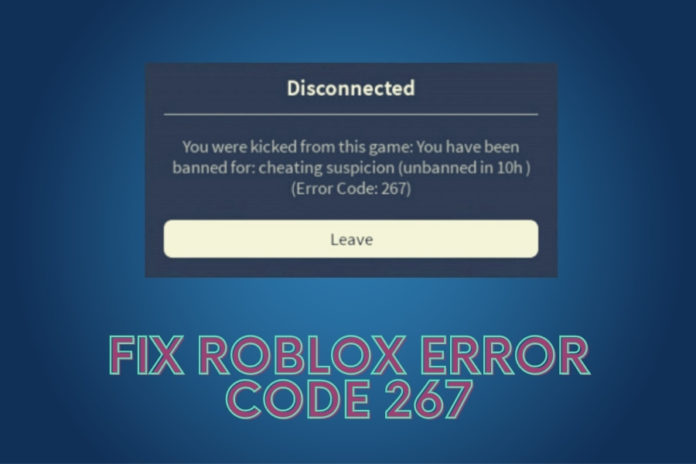 Roblox is a well-known name in the world of online games. Roblox is a global platform where users worldwide interact and play games together. There are more than a million users of this online gaming platform. It also consists of a huge fan-base of gamers and developers. Roblox also comes with an inclusive library that allows developers to market their games. But despite such popularity, there is some problem in terms of flawless gaming. The most common error is error 267 that kicks out a gamer from the game. So what is Roblox error code 267 and how to fix it? Read this article to know the details.
What is error code 267 in Roblox?
Roblox error code 267 means that a gamer is kicked out or banned from a Roblox game because of accessing an illegal script. But it is to be understood that this is not the fault of Roblox, but of the developers who inserts a script illegally within the game. To protect the sanctity of a game, Roblox is designed to kick gamers out of the game if there are suspicious activities like cheating, hacking, or exploiting. This error can also occur if your account is new and is less than a month old.
How to Activate
Error 267 can pop-up anytime without proper warning. But it is not right to blame the game or the developers at this moment. Therefore after getting the answer to 'what is Roblox error code 267', it is also essential to understand the possible explanations.
Slow Internet – When you are playing a huge game through Roblox, then a delayed internet service won't do. With slow connections, it takes longer to download the maps, resulting in delays and errors. In this case, the best way is to connect in a strong network zone through VPNs. Also, there can be instances when the Roblox servers are down.
Windows Firewall – Low-bandwidth connections or a problematic wireless system can hamper the Firewall. This affects the performance of the games. Therefore, you should disable the firewall before entering Roblox.
Empty Game – The error can also occur if you are trying to play a blank game. If the developers didn't build enough stuff inside the game, it could be a reason for the mishap.
Banned Gamers – Roblox contains Admin scripts for initializing the ban command. Therefore if you are kicked out of any game because you tried to hack inside, the game will remain restricted for you unless your account gets unbanned. In this case, you can contact the developer to remove the ban.
How to Fix ROBLOX Error Code 267
Now since you know the possible reasons for error code 267, there are also some ways to fix error code 267 on Roblox. There are some basic things that a player can do to avoid this issue easily.
Resetting Internet option
Roblox error can be solved by resetting the internet options. Go to Google Chrome and open the settings menu. Then select 'Advanced Option' and press the reset button before exiting settings. This will probably solve the error problem.
Updating Network Drivers
Keeping up-to-date network adapters is always important for the proper functioning of your network. First of all, check the version of the drivers installed within the PC. This is essential to avoid compatibility issues. If the network drivers are not of the latest batch, you need to update them through Windows Device Manager.
Checking Internet connection
One of the major reasons Roblox error code 267 appears is poor internet speed. This occurs mostly while playing huge games that require constant rendering or downloading of new maps. Therefore, you should always check the internet connection before starting to play.
Using compatible browsers
Gamers cannot play many games on every browser. Therefore, error 267 may appear if such incompatible issue arises. Therefore, you should check the browsers a specific game supports. Also, it would be best if you upgrade your browser to the latest version. The best way is first to update the browser and then open a game to check its compatibility.
Disabling Ad Blockers
Before understanding 'what is Roblox error code 267 and how to fix it', you should know that most gaming sites depend hugely on advertisements to generate revenue. Therefore these ads can pop-up anytime in the game. This isn't very pleasant since it continuously interferes with the gameplay. Also, some of these ads are malicious. Hence, most of the gamers prefer AdBlockers. But sometimes these blockers are the main reason for the concerned error. If you suspect that this is the reason, then disable your blocker and then check once again.
Reinstalling Rebolox
This is the ultimate method to Fix error code 267 on Roblox. Reinstalling Roblox after properly uninstalling it may be the best answer to this problem. After installing it once again, check if the issue still exists.
Frequently Asked Questions
What will be the message shown if you are kicked out from Roblox?
When you get kicked out from a game because of error code 267, then the system will display– DISCONNECTED: You were kicked from this game [Error Code 267].
How long does it take for an error code 267 to get removed on Roblox?
It takes 30 days for the ban to be removed and for the account to be restored if you are banned from only one game,
How many warnings are given on Roblox before getting banned?
The software gives 15 warnings before banning or restricting the account for violation of minor things and suspicious activities.
Conclusion
The Roblox error code 267 can pop up anytime while you are playing a game. Not getting frustrated instantly and properly examining the issue is the key. Receiving an error message doesn't necessarily mean that the problem is within the game. It is important to understand and find out the main reason for the error. Understanding the reasons will help you fix error code 267 on Roblox properly.  This will also save time wasted on trial-and-error fixing methods.