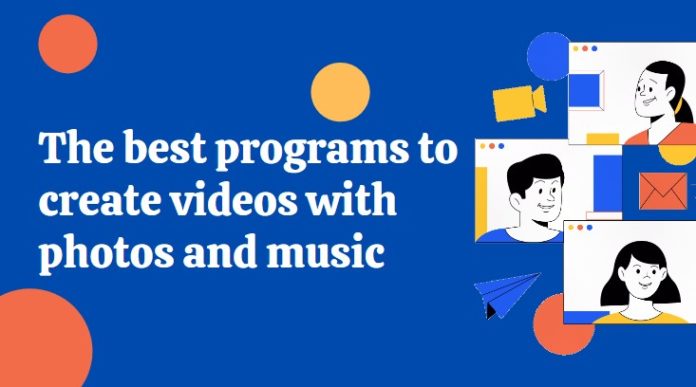 Do you want to make a slideshow but you don't know the programs to create videos with photos and music? Thanks to the boom of recent years, the market offers many solutions that allow users to create creative and personalized slideshows. However, not all software for making videos with photos and music is the same.
Depending on your needs, you may need to save the file in particular formats and identify the most appropriate program for your video editing needs and the operating system you are using. In this article, we have selected the best software to create slideshows divided into two main categories:
The Best Programs to Create Videos with Photos and Music for Desktop
Below you will find a selection of programs for making desktop slideshows for both Microsoft and Mac operating systems. In principle, the programs work in a similar way.
1. Wondershare Filmora
Wondershare Filmora is the perfect software for those who want a high-level result but, at the same time, are looking for an intuitive and easy-to-use program. Equipped with a rich platform of tools, the desktop software is available for both Microsoft and Mac and boasts over 300 effects and a library of sounds that allow you to create high-level video slideshows.
But that's not all. Wondershare Filmora supports all major file formats and allows you to share the presentations created directly on the most essential social media such as YouTube or Vimeo.
Pros:
Lots of features to create effective and engaging presentations;
Easy to use interface;
Extensive audio library with music and sound effects;
All popular file formats supported;
Instant upload to social media.
Cons:
It doesn't have a freehand masking tool.
2. DVD Slideshow Builder
DVD Slideshow Builder is a great desktop program to create videos with photos and music for professional needs. This software allows you to edit images thanks to 2D or 3D transition effects easily. The files can then be instantly shared on social media.
Pros:
Very easy to use;
Extensive photo, video and audio library;
Ability to implement basic changes.
Cons:
It is not possible to share presentations via email.
3. Freemake Video Converter
Perfect for those looking for a program to quickly create videos with photos and music, Freemake Video Converter is an excellent solution, plus free. The software supports multiple formats and allows instant upload to YouTube.
Pros:
Free and without registration;
A wide range of supported formats;
Direct upload to YouTube.
Cons:
Ready templates cannot be accessed;
The program has only one available effect;
You cannot add text to slides.
5. Windows Movie Maker
A real must for Microsoft users, Windows Movie Maker offers users the ability to easily create videos with photos and music while also adding visual effects and animations. It is very easy to use and suitable for inexperienced users.
Pros:
Easy to use platform;
Wide range of transitions and effects available;
Direct sharing on social media.
Cons:
For Microsoft users only;
Limited functionality;
It supports limited file formats.
6. iMovie
iMovie is the equivalent Windows Movie Maker software for Mac users. Easy to use, thanks to its drag-and-drop interface, the program supports 4K and has a vast library with music, effects and filters to customize your presentations as you wish and also interesting tools that allow you to apply different editing techniques.
The program also allows you to adjust the speed and take advantage of the iCloud storage system, the latter very useful for iPhone or iPad owners.
Pros:
Free;
Professional-level results;
It supports the most important file formats.
Cons:
Available for Mac OS only.
7. SmarthShow 3D
SmarthShow 3D represents an excellent solution for those looking for professional-level software, but at the same time intuitive, for creating videos with photos and music.
The program is equipped with many tools and a large library of effects. It allows users to customize their video to their liking and with high-quality results, thus also responding to the needs of the most experienced. Available as a free trial, the software must then be purchased.
Pros:
Easy to use;
Extensive library of templates, effects, animations and music;
Support for 3D and HD.
Cons:
Available for Microsoft only;
Paid program after ten days.
The best programs to create videos with photos and free music online
These are some of the best free video editing programs to create customized presentations directly online. Depending on the needs, they offer a wide range of possibilities, both for users looking for a professional result and for those who want to make more basic movies.
Very easy-to-use online program, FlexClip slideshow maker is perfect for those who want to create slideshows quickly and easily. Equipped with basic tools such as the insertion of music and the choice of the video style, it represents an excellent solution for making slideshow online.
Pros:
Easy and free to use, just register via Facebook or gmail;
It offers many premade slideshow templates
Cons:
Free plan is imited in function.
9. Slidely
Slidely is a free online program that allows you to create engaging videos with photos and music to share directly on social media. This software also gives users the ability to import videos or photos from their computer easily and then apply simple effects and transitions.
Pros:
Perfect for creating simple presentations;
Sharing functionality;
Users can easily import photos and videos;
Videos can be marked as public or private;
Various customizable options for photo transition speed.
Cons:
It is not intuitive and easy to use;
Created videos cannot be downloaded.
10. Photosnack
Photosnack is a program for creating slideshows with photos and music that you can use online, even in its free version. Equipped with numerous tools, this software can create creative slides ideal for presentations of all kinds. The files can then be shared on social media.
Pros:
Easy to use and instant access to social media;
No need to download any programs;
Micropayment function for infrequent pro users.
Cons:
Limited models;
The trial version leaves the program watermarked logo.
11. Kizoa
Kizoa is a tool that allows you to edit online videos with many features. Equipped with an advanced editor, the software supports many tools, animations, transitions and effects, and various musical options to create videos with 360-degree personalized photos and music.
Pros:
Registration is not required;
360-degree customization;
The free package has many features.
Cons:
The interface is not particularly immediate in terms of use;
Basic paid packages have limited functionality;
Full HD for professional plans only.
Final words
In this brief review, we have seen that there are really many tools designed for those who want to make movies with photos and music, both for personal and professional purposes. Some of these allow you to create basic slideshows, others more complex videos based on the user's needs.