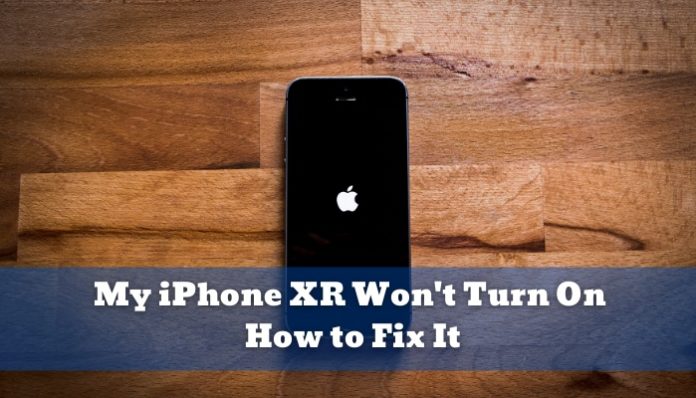 Apple is a well-known company that is basically famous for its smartphones, and exception technology gadgets. Last year Apple has released three phones that have taken the world by storms such as iPhone XS, iPhone XS Max, and iPhone XR. These are the best flagships phones from apple that anyone could get right now. These unique smartphones are supported by iOS 12, which is the operating system that Apple has created for their smartphones. After all these new features, that doesn't mean these mobile phones are nearly perfect, every electronic item has some issues, that can reveal sometimes.  Some users have reportedly come across about iPhone XR that won't turn on. We have found this problem and want to help those people who have similar problems with the iPhone XR.
Let's look at some cases to pursue why this problem arises in the first place. That can range from a minor firmware issue to a more sensitive hardware-related problem, depending on how it occurred in your iPhones. To know the answer you have to question yourself about devices, and their use cases. This issue mostly arises when anyone drops their iPhones on the hard surface. That means that the phone has got physical damage under the chassis. Sometimes the phone can be powered but that doesn't mean it is perfect to use, as it can show damage effect after a while.
Another issue can be the firmware of the iPhone or some applications are causing this issue of shutting down iPhone XR. If the issue is related to software basis, or some application issue then that's where we would like to come, as we had pointed out solutions for why iPhone XR won't turning on. This article would list out many ways to fix this issue permanently in your iPhone XR. Read the full article to get your problem fixed related to iPhone XR will not turn on, or any other iPhone as well.
My iPhone Won't Turn On – Solutions to Fix it
We have researched and found out 5 main ways to fix your issues related to iPhone XR or generally any iPhone in the case. As the user of an iPhone, you can try it one after the other as one of the solutions might save you from going to the service center and spending money on the device.
Fix 1: Charging for straight 30 minutes
First, you have to remember when was the last time you had charged your iPhone XR?. Most probably the phone has drained all the juice from it, and that's the reason it could be to not turn on. Now, before you put your phone to charge there are some things that we would like you to note and perform accordingly.
Pick up a small thin piece of cloth and clean the charging port of your phone with that.
You have to use the original apple's charger and cable for charging always.
You can also try to charge the iPhone with wireless charging technology.
If your phone has drained all the battery then you have to charge the phone for about 25-30 minutes straight, don't turn it on during this charging period.
Check the cable, adapter, and ac source with other devices, that if it's working properly. Sometimes one of these can also cause trouble.
Fix 2: Force restart while iPhone XR Charges
Most people interpret the black screen of the iPhone, as it is not turning on. Occasionally, iPhone XR has the problem to stuck on the black screen while turning on. This problem happened after the release of iOS 14 on Apple devices. However, a force restart is a key to all these types of issues.
Press and then release the Volume up button.
Press and then release the Volume down button.
Then hold down the lock button until you see the Apple logo on the screen.
If the logo is not showing then try to charge the iPhone again, and then repeat these steps.
Fix 3: Overheating issue
After a long hour of charging, the iPhone would get warm. Mostly it will not make any difference to the device but if you are using a case for the device then it might not get away with the heat easily. So we would advise you to remove the case for some time and then follow the above method for turning on your iPhone XR.
Fix 4: Fixing it from apple support
If your device is under warranty, then apple support would look into your device, and fix these issues for free. You can always check the warranty status of your device online, and then book an appointment for your issue regarding iPhone XR.
Conclusion
We hope that these solutions would solve your problem connected to the iPhone XR Won't Turning On. If you know of any other fix then you can tell us in the comment section, and we would surely add those ones to this list.