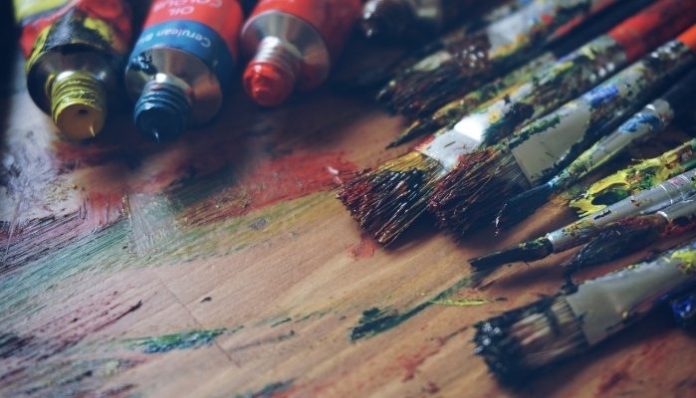 Vincent Van Gogh was a Dutch painter who lived in the Post-Impressionist era (1853-1890. Vincent had quite a battled life and died at the young age of 37. In his lifetime Van Gogh was only able to sell one artwork; however, after his death, he became one of the most renowned and influential artists in the history of Western art.
Within a decade of his life, when he committed entirely to his craft, Van Gogh had about 2,100 artworks, including about 860 oil paintings. The artworks were characterized by bold colors, dramatic, expressive, and impulsive brushwork that significantly influenced modern art styles. Below are a couple of Vincent Van Gogh's pictures.
Van Gogh's Style Development
Van Gogh's aesthetic evolution is often related to his time spent living in various locations throughout Europe. He had a penchant for immersing himself in local cultures and lighting circumstances but maintaining a distinct aesthetic style.
He took a long time to develop as an artist, and he was well aware of his limits as a painter. He moved house frequently, possibly to expose himself to fresh visual stimuli and hone his technical ability through exposure. Van Gogh utilized the moves to avoid conflict and as a coping mechanism when he was confronted with the realities of his current predicament.
Van Gogh's paintings have densely laden, visible brushstrokes in a vivid, opulent palette, showing his distinct personality in paint. Van Gogh's profoundly different, emotionally expressive style has impacted artists and movements throughout the twentieth century and into the present, securing his legacy for generations to come.
Van Gogh's Greatest Works
Van Gogh's pieces are some of the most famous artworks in the world. Vincent Van Gogh artwork have been a source of fascination for art lovers for a long time, and interest in his art keeps growing consistently. We will examine some of Van Gogh's most significant artworks in this article. All of Vincent Van Gogh paintings are appreciated worldwide due to his works' sheer mastery and quality.
His most significant works include The Starry Night, The Potato Eaters, Cafe Terrace at Night, Bedroom In Arles, Wheatfield with Crows, Vase with Fifteen Sunflowers, among many others.
We will analyze some of these fabulous Van Gogh paintings.
The Starry Night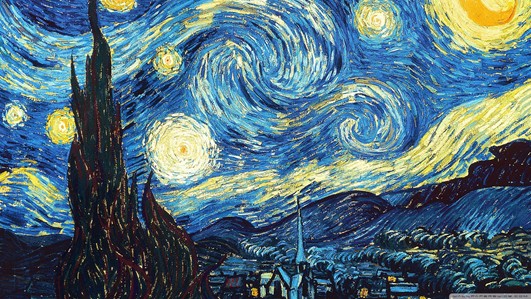 The prevalence of yellow in this and other late works by Van Gogh has sparked significant discussion. Some speculate that van Gogh's unusual use of color in later paintings was due to lead poisoning or brain disorder.
The spiral effect created by Van Gogh's use of white and yellow attracts the eye to the sky. On the other hand, the vertical lines like the cypress tree and church tower soften the arrangement without taking away from the majestic night sky seen in Starry Night.
Dark blues and greens were used by Vincent van Gogh, who added dashes of mint green to depict the moon's reflection. The structures are described in the painting's center.
Dark blues and greens were used by Vincent van Gogh, with hints of mint green reflecting the moon's reflection. Small blocks of yellows, oranges, and greens with a dash of red to the left of the church make up the buildings in the center of the painting. The orange of the night sky elements balances the dominance of blue in Starry Night.
Van Gogh paints the rich hues of the night, which conforms to the genuine character of this Starry Night, in which colors are employed to indicate emotion. The church tower and cypress tree, which represent man and nature, point to the heavens in Van Gogh's painting Starry Night.
The Potato Eaters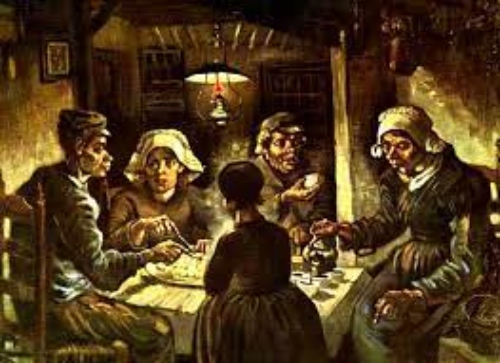 Van Gogh held this particular painting in very high esteem when he first painted it; sadly, every other person had a low rating for the painting when they saw it. It was not until after his death that people greatly appreciated it, and it went on to become one of the most famous Van Gogh paintings.
According to legend, van Gogh and his parents resided in the Dutch village of Nuenen. From Drenthe, where he had previously lived, he relocated there around December 1883. According to legend, he chose to live in Nuenen because of his loneliness and love of the countryside. It was there that he started his Peasant Character Studies series of peasant studies (1881 to 1885).
Peasants engaged in various occupations or talents such as farming, basketry, weaving, digging, spreading seeds, shepherds, and other groups of people worked and ate together. Van Gogh was enthralled by peasant life and meticulously researched it in his 200 drawings and paintings.
Furthermore, van Gogh aimed to depict peasants and their activities in pure light but darker and earthier hues. He intended to capture the "essence" of what he undoubtedly saw and felt when engaged in this lifestyle in Nuenen, which was dynamic, simple, and yet dignified; he worked as a peasant to gain firsthand experience.
Van Gogh considered the painting a "real peasant painting" and sought that people understood it before they appreciated it.
Vase with Fifteen Sunflowers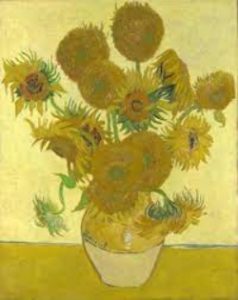 This is the last artwork that we will be considering in this article. Vase with Sunflowers. It was one of Vincent Van Gogh's most acclaimed works. Van Gogh did the painting to celebrate the vibrancy of life, and it imbued each flower with its unique expression.
One of the most well-known works of Vincent van Gogh is undoubtedly Vase with Fifteen Sunflowers. He was ecstatic when drawing the painting. He felt warm thanks to the golden petals of sunflowers. As a result, his texture strokes added sculptural elegance to the complete picture. The entire scene is bathed in a gleaming golden hue that energizes and energizes the audience.
Sunflowers are, in some ways, Van Gogh's incarnation. He feels that the color gold represents the hue of the sun and that the sun is a symbol of love hence the color golden has special significance for him. In Still Life, he conveys himself by posing various flowers: He compares himself to the sunflowers in a vase with fifteen sunflowers.
He exemplifies the tremendous individualism of the artist. He is more concerned with how he's feeling for things than what he visually sees. With no broad, he fiercely chases line and color performance. In fact, not only are the lines and colors in this picture out of scale, but so are the perspective and proportion to adapt to his desire to express himself at ease.
Sunflowers are the most significant material for Van Gogh to express his views. But summer is fleeting, and the season for sunflowers is as well. He, like the sunflowers, comes to an end. But, he will always be the painter of sunflowers in our minds.
The Bottom Line
We have examined a few of Vincent Van Gogh's most famous artworks that have gone on to solidify his legacy as one of the finest painters in history. Van Gogh had so many paintings that are considered to be excellent. The list would be inexhaustible if we chose to go on and on.