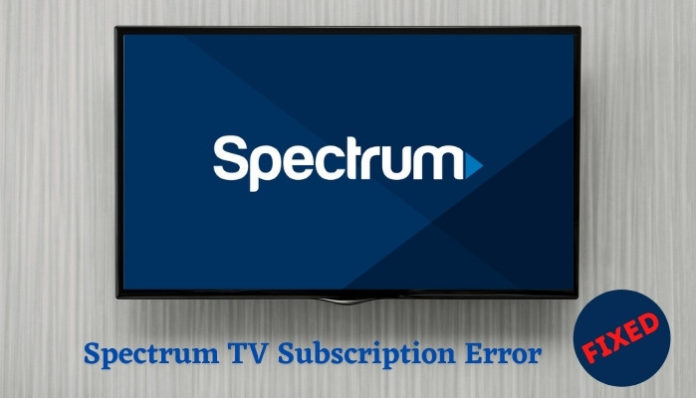 Spectrum is one of the most popular providers of cable TV services in the USA. Its dynamic cable TV packages provide customers the flexibility to choose according to their needs. The company also provides DVRs, apps, and premium content with its Spectrum cable services. Other services include internet and phone. However, its double-play and triple-play packages are quite popular due to their economical price offerings.
One issue that is faced by users of cable services is the subscription error at times. They may not be able to access certain channels. This error is irritating especially when you are anxiously waiting for the next episode of your favorite TV show. However, the good news is that you can easily fix it. This error may appear due to non-payment of a monthly bill or when you try to access a channel that is not a part of your subscription. Follow the detailed steps below to learn how to resolve this issue.
How to Fix Spectrum TV Subscription Error?
You may face a Spectrum TV subscription error due to several reasons such as pending bills, incorrect account settings, or a power outage, etc. The following steps will help you with fixing this issue.
Step 1: Ensure That You Have Paid Your Bill
The first step is to check if you have a pending bill. If you haven't paid it already, it is time to pay it now. The next step is the activation of services. Following this, the error must disappear. It may also happen that you have paid your bill, but it is not reflecting on your statement. In case of such an error, contact the support team. Tell them about this error so they can resolve it immediately.
Step 2: Log Out and Log In Again
At times, small bugs may prevent you from using the service. A popular fix is logging out of the account and logging in again. The error may resolve by itself. This is similar to restarting a device. It's a trick that even works on routers and modems. They usually start working again properly after a simple restart. Head over to the settings of your Spectrum account and log out from it. Next, enter your sign-in credentials to log in again. Turn on your TV if is powered off. It may start working properly again. If this doesn't work, move on to the next step.
Also Read: How to Login to Your Spectrum Router?
Step 3: Reset Account Settings
It is time to reset your account settings if none of the above steps work. It is likely that certain account settings may not be correct. The best course of action is to reset them all. This may resolve the Spectrum TV subscription error. Simply log into your account and change the settings to default. Chances are that the error will disappear and the services will be back to normal.
Step 4: Reset the Cable Box
Spectrum TV subscription errors may occur due to a problem with the cable box. So to begin with, make sure that it's working fine. Power it off and then restart it. A simple restart works well in resolving the issue most of the time. However, in case the problem persists, reset the box to factory settings. Do note that this step will revert all your settings to default factory settings. This can also cause a cable error.
It is necessary to check that your cable box is activated or not before resetting it. Also, ensure that all the cables are plugged into properly. The coaxial cable must be firmly plugged into the power source too. Have a look at the HDMI cable as well. It must be properly inserted into the HDMI port. Once you perform these checks, begin rebooting the device.
Power on the TV
It will start normally. Spectrum will appear and then disappear
Small green and yellow boxes will be visible on the screen
"Initializing Application" will also be visible
The receiver will power off after this
Press the power button on the cable box to turn it on
A message on your TV may appear
You may see a countdown
After the countdown is over, you will see a picture on the screen
Now, press the menu button on your cable box
The reboot is complete. You may be able to use the cable services without a problem from this point onwards.
Also Read: How to Install Spectrum TV App on Firestick
Step 5: Contact Customer Support
If you have not been able to resolve the TV subscription error until now, it is time to contact customer support. Certain errors require technical intervention for resolution. It is wise to stop interacting with electronic devices after following all the steps above. Register a complaint with their tech support, so that a rep may visit you and resolve the issue.