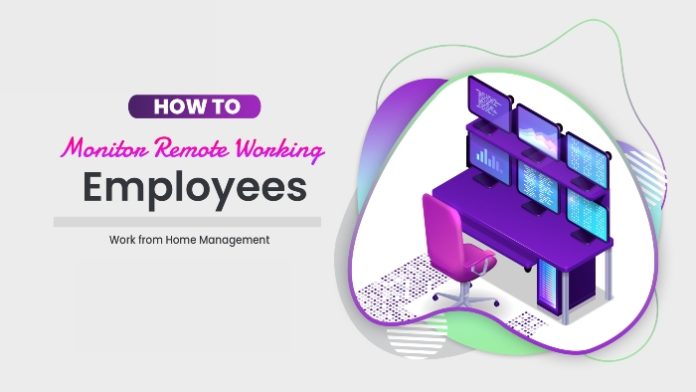 Amid the third wave of COVID-19, we all are again ordered to stay home. Businesses have shifted to work from home one more time. With employees doing remote work, it has become important for the management to monitor the staff during the work-from-home period.
Stats show that around three-fourth of employers find it challenging to adapt to tele networking, which can be a big reason for low productivity.
To keep your corporate things in line, you must strategize your venture operations.
Let's see how businesses can manage remote working employees and increase their productivity.
Work from Home Management
We all are new to this work from home routine. While staying home, it is difficult to manage work and house chores. And when you are at your comfort place, who can guarantee that you would not sleep? Indeed, for management and staff, it isn't very easy to cope with new work routines.
Here are some tips to smooth your workflow while staying at home.
Set Your Goals:
Set work expectations and deadlines. Work from home is new to every corporate employee. Work efficiency indeed gets affected while staying at home. To maintain your workflow, make sure you have set the task completion deadlines. Employees can be lousy during remote shifts; it is upon the management to boost their staff members. And the key to that is communication!
Collaborate with Online Meetings:
Video Conferencing has become a major portion of our remote working routines. Team management is a new challenge every employer is facing nowadays. Here, we must keep everything in line by check-in meetings. Stay connected with your employees and follow up on every task assigned to them. Remember, every assignment has its own worth. Don't communicate via text messages but arrange virtual meetings via Zoom or Skype to get daily work reports.
Be Flexible:
One thing that every employer must work on is setting priorities. Be flexible and keep all your focus on outcomes, not performance. Your only responsibility as a manager or employer is to define goals and expectations. Once you set the work expectations, sit back and monitor employee productivity.
Avoid Micromanagement:
Micromanagement during remote work can be devastating. Avoid micromanagement and practice delegating your employees. Make sure you are not decreasing the morale of your employee in any matter. Employees need motivation, not discouragement. Though it is difficult for everyone to keep up with remote work, we all must encourage each other during such intense times. Lead your team and set aside the bossy attitude for the sake of work.
Stay Connected:
Apart from video conferences and daily report meetings, keep in touch with your team with follow up text messages and calls. As a manager, it is solely your responsibility to stay connected with team leads and other staff members. Follow the hierarchy and keep in touch with your team to evaluate their overall progress.
Digital Employee Monitoring – How to Monitor Remote Working Employees?
The following are some practical ways to monitor remote working employees in real-time.
How to Monitor Desktop Screens?
Time-tracking software allows you to peek into the desktop screens of your company-owned computers or laptops. Such software takes random screenshots and records keyboard and mouse activities to ensure that the employee is working.
Time Doctor and Hub Staff are the two most popular desktop monitoring software that delivers comprehensive activity reports to track employee work performance remotely.
How to Monitor Mobile Devices?
Software like Time Doctor or Hub Staff can only help you to monitor the laptop or desktop screen. What businesses need today is a mobile tracking app that provides comprehensive reporting on cell phone activities of staff members.
How do you confirm that your resources are actually working?
Well, for that, you have to monitor the employee work phones with an employee surveillance app.
The use of cell phones during work hours distract employees from work. With remote work, when no one is looking, employees indeed use much of mobile phones. Despite low productivity, another threat businesses face due to cellular devices is data breach and malware attacks.
The Best Employee Monitoring Tool 2021
There are a bunch of employee monitoring software available online. But, due to scam or bogus monitoring apps, people do not trust such software.
Never believe any app that claims to be the best employee monitoring tool 2021.
Now that a majority percentage of the office staff is working from home, it is necessary to use a reliable employee surveillance app.
In this article, we are about to reveal how businesses can monitor remote working employees with the best employee monitoring tool 2021.
TheWiSpy is one of the top employee surveillance apps trusted by several ventures worldwide. It enables business owners to keep eyes on employees' work phone's activities to ensure corporate data protection.
If you are running a business that has shifted to remote work due to COVID-19, you must track all company-owned devices.
Here is which work phone activities you can monitor with TheWiSpy app;
Incoming & Outgoing Phone Calls
Call History
Text Messages
GPS Location
Media Gallery
Installed Apps
Screen Activities
Surrounding Noises
Camera Activities
WiFi History
And many more.
Businesses can use TheWiSpy app for different purposes, such as employee GPS tracking or tracing phone calls and messages. Remote shifts can be tiring. And, it is possible that your employee might make excuses for calling sick. To confirm whether your employee is actually resting at home or went outside for extracurricular activities.
TheWiSpy being the best employee tracking tool 2021is a good choice for ventures to implement employee surveillance remotely.
Final Words
Workforce management during lockdown is an arduous task. But, when you have the proper monitoring tools, there is no need to worry at all. Start monitoring the desktop as well as mobile screens of your remote working employees from today. With businesses shifted to remote operations, the management must keep tabs on work performance with world-class employee monitoring tools.
We have mentioned some staff management tips along with digital solutions to track employees.
What is your plan to smooth remote management?