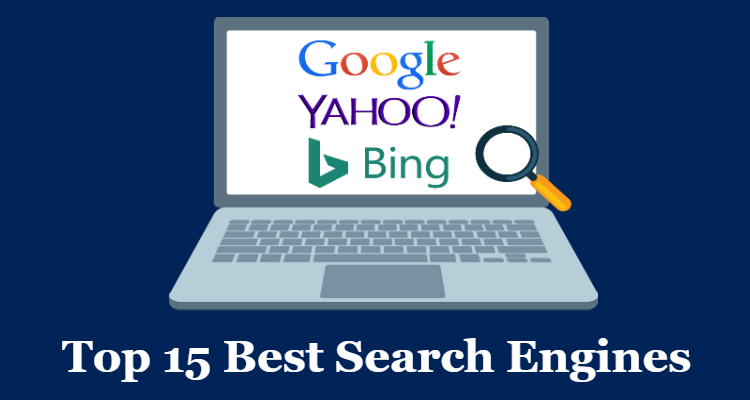 If you are looking for Top Search Engine in the World, then you came at the right place. Yes, It is possible to get Most Popular Search Engines list. We have researched and found the list of top 10 best search engines. so don't miss to read this article.
We all know the importance of search engines. Actually, search engines have become a vital part of our daily life. You may be a student, teacher, businessman or a doctor, search engine is something that you have to use daily to get answers of all your queries. Search engines have added endless benefits to our life and consequently, the dependency on search engines is being increased day by day.
If internet is a body, search engine is its heart. It is a key that gives access to all information. However, if you are a daily internet user, you probably use a particular search engine regularly. But, there are many other popular search engines that you might not know. Each search engine provides various links or information of a particular topic. Therefore, the more search engines you have in your bookmarks, the more information will be gathered by you. So, in this article, we have added the details of top 15 best search engines in the world.
Top 10 Most Popular Search Engines In the World 
Google is the most popular search engine in the world. Almost 80% internet users have given preference to Google. Even, it secures top position in Alexa rank. It is very simple to use and Google not only provides links but also gives images and videos related to the topic that you search on Google. Google search also consists of Google Maps. So, if you get struck at somewhere in an unknown place, Google map will help you to get rid of that problem.
Bing is one of the most popular search engines from Microsoft. It was launched in 2009 and it is perhaps the best alternative of Google. Bing has got almost 500 million unique visitors and the number is increasing day by day. Like Google, Bing search also consists of maps, images and videos. We cannot say that Bing is better than Google but, for getting a different type of experience, you may go with this search engine.
Ask.com is another internet search engine which is popularly known as Ask Jeeves. If you have questions or doubts and you are looking for answers, Ask.com would be a perfect choice for you as it is generally a question and answer community. The rank of Ask.com in Alexa is 31st and almost 245 million unique visitors visit this site in a month. However, Ask.com sometimes gives you a better performance than Google when you simply look for an answer of a particular question.
Another useful search engine that you might add to your list is Yahoo. It was launched on 2011 and at present Yahoo is powered by Bing. Along with the search engine, Yahoo is also an E-mail provider. Yahoo is one of the popular search engines and almost 300 million unique visitors visit this website monthly. Though it is not as popular as Google, it has gained about 4.7% marketplace worldwide.
If you live in China and look for a popular search engine, Baidu is ready to serve you. Baidu which was launched in 2000 is only available for China. It is very popular and has secured 4th position in Alexa rank. It provides billions of searches in every month and the market share of this search engine is increasing day by day.
AOL is a very popular search engine. It is popularly known as America Online. The site has almost 125 million monthly visitors and as a result it has secured top positions in Alexa rank. Popular websites like Techcrunch.com and Huffingtonpost.com are operated by AOL network. If you want a different taste, you must try this search engine.
If you want to gain more knowledge and look for a search engine that will provide you facts as well as data, WolframAlpha will be a suitable choice for you. It is one of the most popular computational knowledge search engine. WolframAlpha was launched on 2009 and it has secured 1618th rank in Alexa.
Yandex is another popular search engine that is mostly used in Kazakhstan, Turkey, Russia and Ukraine. It was launched on 1997 and the most important thing is that Yandex has many other features along with the search engine like Yandex Maps, Yandex Music, Yandex Images and many more.
DuckDuckGo which was founded in 2008 is a very popular search engine. It is quite different from others. There are many search engines that track your activity and show contents based on your activity over internet. But, this particular search engine does not track user's activity and therefore it is very useful for those who give importance to their privacy. However, DuckDuckGo is inextricably related to Bing and Yahoo as the revenue of this site comes from those.
Gibiru.com is out and out different from other search engines as it is a human guided search engine. Gibiru that was founded in 2008. The site has also launched its own Android as well as iOS app for providing better mobility to its users.
Excite is another search engine that is not as popular as others. But, it has some useful features that cannot be ignored. Excite provides news, instant messaging as well as weather update. Besides, you can also come to know about the latest trends, topics and even you can search using phrases.
If we talk about the search engine industry, we cannot ignore the name of Lycos. The popularity of Lycos is being increased rapidly because of its uninterrupted service. The main services that Lycos provides are web hosting, social networking and entertainment websites.
Qwant is very popular as well as user-friendly search engine. It does not track user's search history and therefore your privacy is fully secured in this site. Qwant is very rich in features. It has options for music, social and shopping search. Besides, it has a special feature which is called 'Boards'. This feature allows you to save your favorite contents.
Dogpile is another popular as well as useful search engine that gives you a combined result taken from top three search engines. It was founded in 1995 and Dogpile has more than 10 million monthly unique visitors.
We cannot complete the list without mentioning the name of Alhea. It is very popular search engine and it has more than 8 million monthly user bases. The main slogan of Alhea is 'web for everyone'. It clearly indicates that this search engine is available for all. However, this search engine gives you best search results and therefore it has gained a huge popularity.
Conclusion:
In conclusion, it may be remarked that there are many other search engines but this article consists of best 15 among them and it will surely give you positive outcomes and help you to get rid of all kinds of queries.