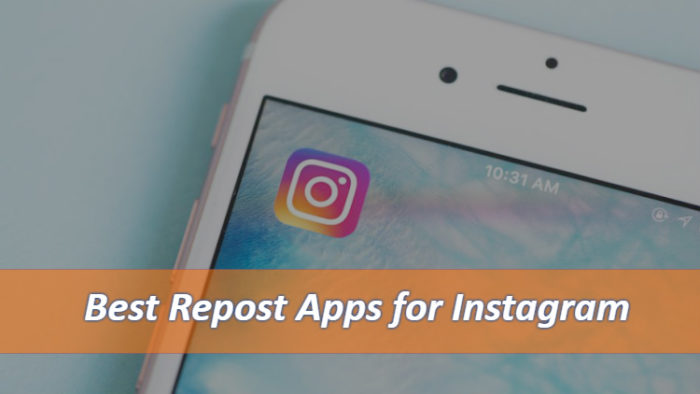 It often happens that you walk across the profiles of Instagram, and you see a beautiful photo that you want to share with friends. Unlike other social networks such as Facebook, on Instagram there is no convenient "Share" button. At the same Twitter has a retweet button, and here at Instagram – nothing at all. Therefore, for the repost photo you have to resort to more sophisticated methods.
In this article we will tell you about the best repost apps for Instagram, and different ways to make a repost photos, or videos on Instagram. If you do not want to do a repost, but simply save your favourite photos, and videos on your phone or tablet, then look at this article. you can also check Instander for Downloading Reels, IGTV, Videos, Story and more features.
The 5 Best Repost Apps for Instagram (Android & iOS)
#1. Reposter for Instagram: Download & Save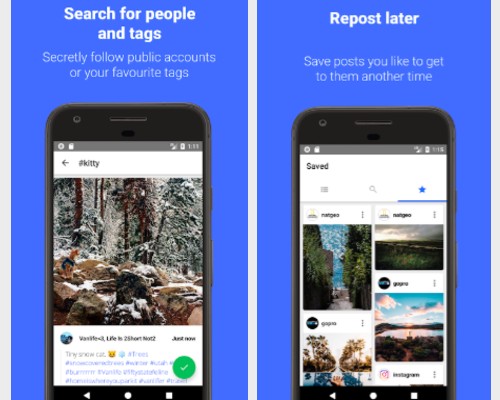 The simple, and clean interface of Instagram makes it easy to focus on the beautiful photographs and interesting videos of the users. It also has the ability to easily republish the content of other users, your followers, your influencers or of friendly brands so that your followers can see it.
If you manage Business accounts, you will have already had to repost your followers who portray your product or have tagged you. With this application, it will be really easy to share this content, because you can download and save the photos and videos you like in a few steps.
Just choose the image, click the three dots at the top right, and copy the link which will be saved directly inside the application. From here you can add filters, text and hashtags like a normal post and share directly on the profile you manage.
Compared to other apps, Reposter for Instagram: Download & Save does not overwrite the name of the profile from which you took the content, and this on the one hand can be useful to give greater consistency to your gallery. If you decide to use this app for your reposts, you always tag the author of the photo at least in the copy to let him know that you have appreciated and shared his content.
In this application, being one of the best repost app for Instagram without watermark, you also need to copy the link to the publication to make it repost. It also picks up the text description from the original. You can view the history of recent posts. To remove a watermark with a username, you do not need to pay.
#2. Repost For Instagram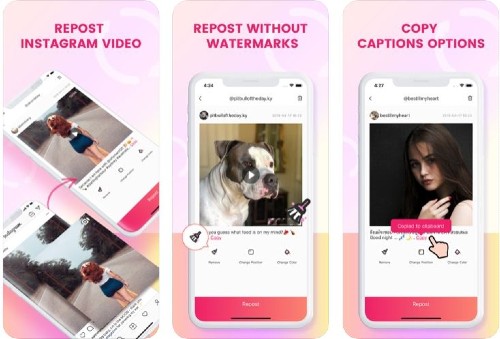 There are free methods of republishing Instagram content in a few simple steps. Keep in mind that you must always first take permission from the primary user. Otherwise you cannot repost the primary post. You may need a written permission.
This process can be done by simply commenting on the image and asking, or by sending them a direct Instagram message which can be accessed by touching the paper plane icon in the upper right corner of the application. Both iOS, and Android devices are compatible with this IG repost app which integrates directly with Instagram
Open your Instagram application and find a photo, or video that you would like to republish from your own Instagram account. Touch the photo you choose from the photo gallery of the original poster to see its full view.
Copy the URL to share the publication to your clipboard by touching the icon in the upper right corner of the publication. Then, touch "Copy Share URL" (the button will look the same on Android devices).
Once the photo has been copied to the clipboard of your phone, open Repost for Instagram. The reposting post will automatically be saved on the application home page. There is an arrow on the publication corner (right side). There, you can edit how you want the re-submit icon to appear on Instagram.
Press "Repost". Then, touch "Copy on Instagram", where you can add a filter and edit the publication.
#3. Repost via Instant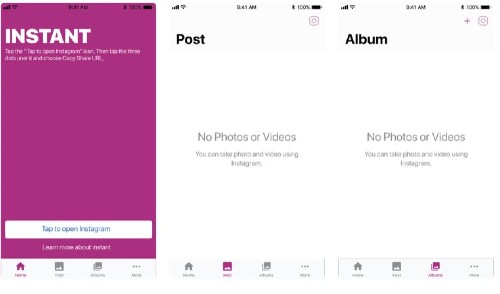 In this application, you also need to copy the link to the publication to make it repost. It also picks up the text description from the original. You can view the history of recent posts.
To remove a watermark with a username, you do not need to pay. The program also conveniently implemented a selection of images, and videos in posts consisting of several elements. All of them are displayed separately, and you just need to choose what you want to add to your account.
Instantly keeps track of copied links, and displays a large popup in the middle of the screen, in addition to the regular notification. This application is more like a boot loader which also has a repost feature.
Photos / videos are saved on the phone, and the application even allows you to organize your saved messages into albums. You have the opportunity to leave a review.
As for messages with multiple images and videos, this application will provide them to you in a typical side scrolling mode. You can move them to the folder you want to transfer, or share it in other applications.
#4. Repost For Instagram – Regrann (Android & iOS)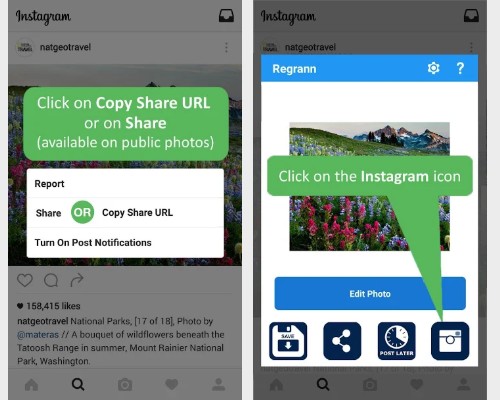 The application has several modes which makes it one of the best repost app in the community. The most convenient is the "Pop-up selection window". In it, the program opens automatically when you copy a link from Instagram.
After that, you can quickly make a repost, save the publication to a smartphone, or bookmark content to publish it later. If the post consists of several photos or videos, you will first have to save them to memory.
Repost for Instagram – Regrann welcomes you with the workbook, and then proceeds directly to work through the settings screen.
It has cool features like listening service, and add a watermark with the username. The application also automatically copies the signature and provides the ability to replace it with your own.
The Post Later feature is also very good, allowing you to leave messages on bookmarks. You can also repost messages with multiple images / videos.
#5. EzRepost For Instagram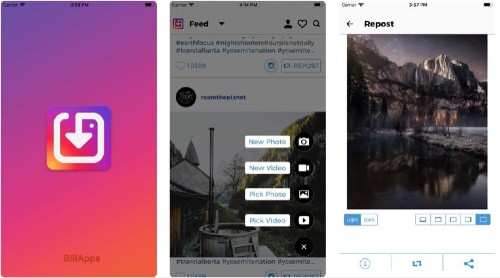 This application, unlike others, allows you to repost without copying links. You will have to log in to your Instagram account after which you will be able to view the tape, and make reposts directly through EZ Repost +.
It is possible to quickly move on to popular publications, as well as to those images that you like. There is a search by users and hashtags.
During the publication of the repost, the signature will automatically be copied to the clipboard – all you have to do is paste it. It is not necessary to add a watermark with a username, but you can.
The main screen of the application allows you to save the message, republish it or share it in other applications. This application also gives the user a surprisingly large degree of control over advertising.
Premium plans start at $ 9.99 per month, providing features such as "Cloud Backup" of all your local messages, so you can save an archive after switching devices.
Conclusion : Best Repost Apps
So, these are the 5 Best Repost Apps for Instagram. Before any Instagram repost app download, you must read all the necessary terms, and conditions carefully. If possible, try to go for the premium versions. It will cost you simply nothing but, offers you everything.