Offline Music Player: Music players play an essential role in an Android phone for refreshing the mind. Most of the users love to listen music at the time of travel, depression, work, etc. to relax their mind from stress. In such a case, choosing the right music player will don't let you feel disturbed while playing any favourite songs. The benefit of using offline music player applications is that it doesn't have irritating ads for the disturbance. In this post, we help you to choose some best offline music apps that will give a comfortable feature in simply maintaining all music files. These best free music player apps will clear your doubt about choosing the perfect app for your phone.
14 Best Free Apps to Listen Music Offline
1. Google Play Music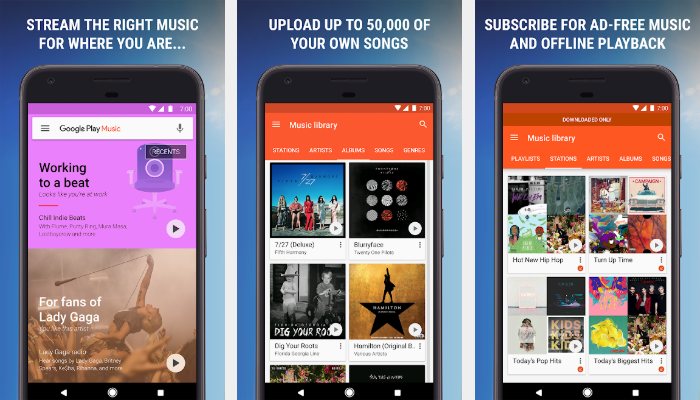 Google Play Music is one of the free music applications that do not need Wi-Fi. Every android device comes with a pre-installed Google Play Music app and therefore it may be said that the app is easily available. One of the important aspects of this app is that you can access all the features of this app on all your synchronized devices. Besides, the app uses your location in order to impart the best music based on your activities.
Google Play Music offers you unlimited songs that you can listen as many times as you want. If you do not find your song, the app has a search option that will help you to get your song. Users can also download music from the web on the app and even you can upload your offline tracks to the app up to 50000. The music library of this app is huge and you will get all kinds of music very easily. However, if you want something more like exclusive music, You may purchase YouTube Music Premium membership. It comes with YouTube Music ad-free.
2. Rocket Music Player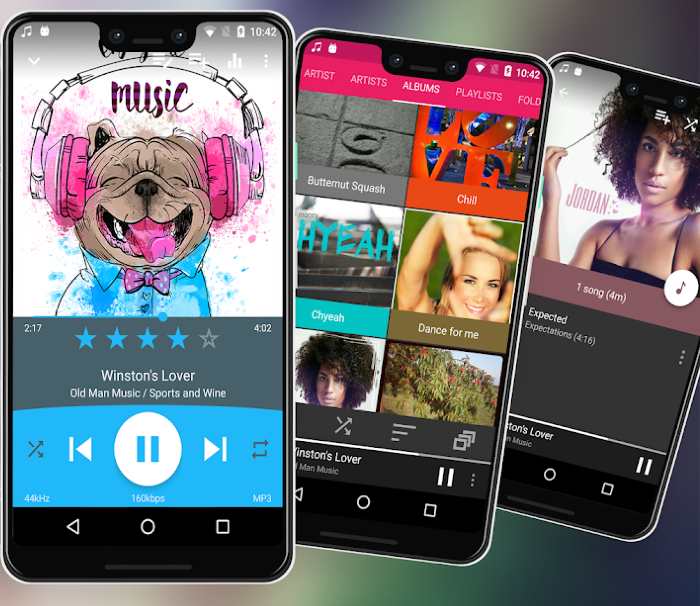 It is one of the most advanced music players for an Android phone that comes among the best offline music apps. The rocket music player has more than 30 themes available to apply in the background to make the screen look more beautiful while listening to the songs. It is full of customizable melody features like equalizer and drum beats that enhance the tune of the song. It has options for altering the thumbnail of audio for the responsive stake of listeners. Users can run all types of audio files like mp3, wav, 3gp, Mva, etc. without any complication. Smart features like custom lock screens and sleep timers are convenient to protect and stop the music after you fall asleep.
3. Pixel – Music Player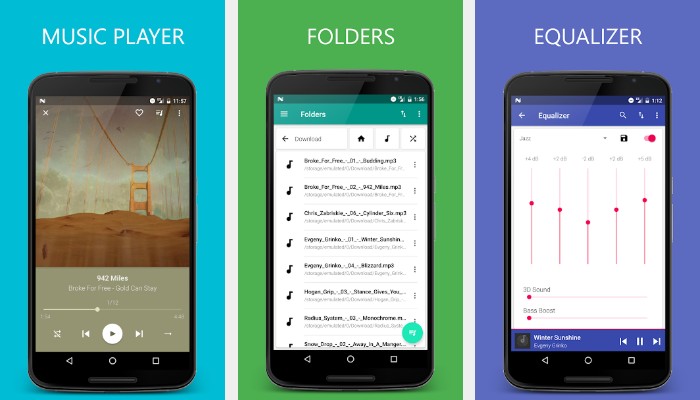 The pixel music player is among the best offline music apps that support music, radio, and podcast. This offline music player is designed with extraordinary features to beautify the screen view. Users can easily take advantage of any music from their file manager by searching the name of the music file. The delicate features of search podcasts from video files are also available to find podcasts related to the topic of interest. Users can also download the lyrics just by clicking on the download button below the music play. The element of radio works only in online mode and easily connects to any of the radio channels in the specific zone.
4. Shuttle Music player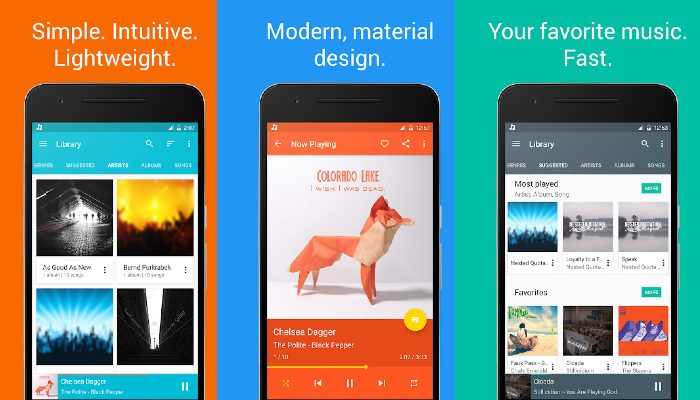 It can be the best free music player apps for those users who are searching for an excellent music player in less file size. The size of the app is around 4 Mb, but still, it has extensive features to compete with other music apps for offline listening. Unique aspects like artwork downloading, sleeper time, Gapless playback are handy to try something new in music. The design looks relatively modern, that creates a mood-enhancer domain for the listeners. Theme customizing features like Equalizer, autotuning also exist, like other offline music player apps. Users also can purchase premium features to unlock the part of Chromecast browsing and distinct themes.
5. AIMP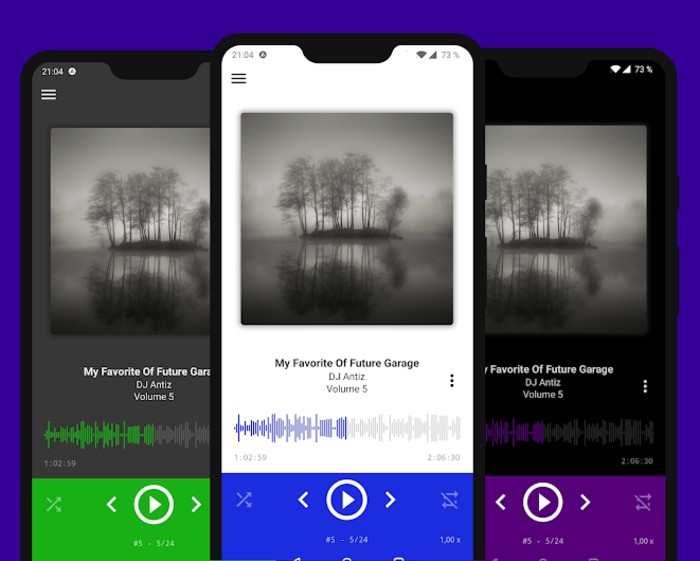 AIMP is one of the best free music player apps for Android users. It can support openSL and audio track output. Users can efficiently run music files like mp3, WebM, mpg, mm, etc. Balance control and bookmark attributes make it unique from other music apps for offline listening. You can get down music, tracks, stereo to create a new beat of the music file. It also gives the option of deleting bulk audio files with one click. Users can easily adjust the notification control and standard lock integration for easy access to the music player.
6. Impulse – Music Player
It is quite popular among the best music streaming apps that shows the tune lines on the screen concerning the music beats. The waves created with the music tunes take the mood to another level. The gesture of the music player is very advanced for a perfect audio playing. It is mostly used by gym and athletics users because of easy control of the music without any button. The listener can set the music in a list and turn on the gesture to change the music list just by shaking the phone. Additional unique features like crossfade, blur lock screen art, song cutter make it an all in one offline music player.
7. BlackPlayer EX Music Player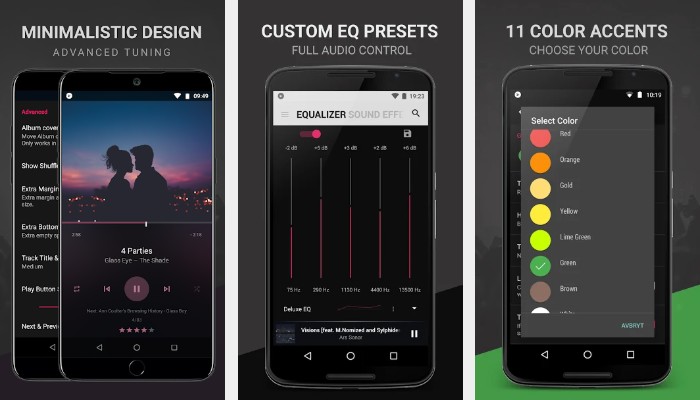 The name itself suggests the colour of the music player. It is among the best free music player apps that come with a dark background. This offline music player can be a choice for those music listeners that love to keep their background dark while playing the music on their phone. Extra features include a virtualizer and an amplifier for clean music management. Users can customize music thumbnails and put HD albums to enhance the glance of the screen. Rest features like mp3 scrobbling, crossfading, music tag editor is ubiquitous of the offline music streaming app.
8. MediaMonkey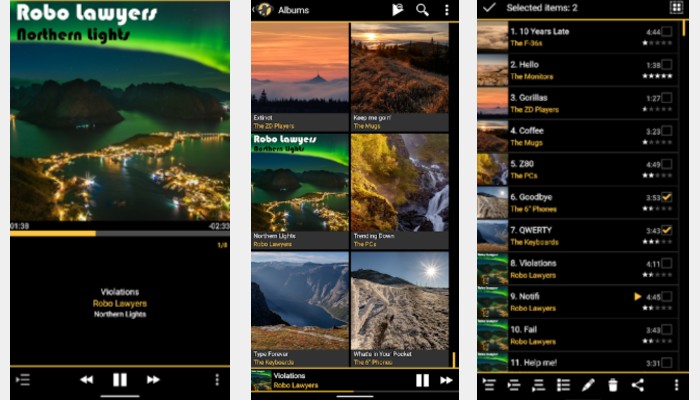 The easy navigation, sync, and music management feature list it to the best music streaming apps on Playstore. Users can get full information relating to any music file like artist name, album, movie name, and release date inside this offline music player. Users can use system codecs to reset the volume level of the tune. It also supports free chrome casting, wifi syncing, lock screen like features for relaxing music playing experience. Users can easily edit music properties and widgets and apply a new filter to the existing music files. The full library list gets displayed at once for a precise selection of music files for playing.
9. Pulsar Music Player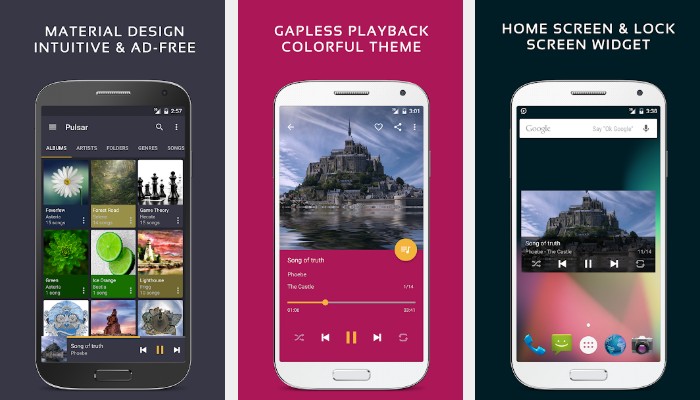 This app comes without any ads and complex features to operate. It is the reason for listing it among the best music streaming apps. It is one of the oldest music players which a regular user domain. People addicted to listening to music in pulsar don't find any other offline music player interesting. It contains only limited useful features that a music player should have for the listeners. The accessibility is relatively clean so, it doesn't create confusion for a newbie for selecting music files.
10. jetAudio HD Music Player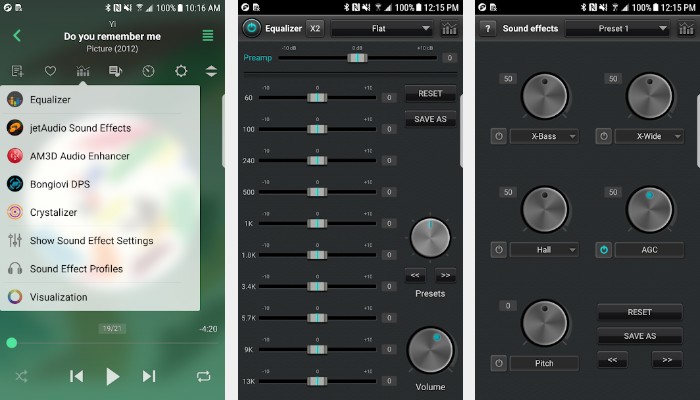 It is a music player with new graphical designs and sound play. jetAudio HD Music Player is the top-rated music player app in Playstore. Features like crystalized audio plugins, pitch shifter make it the best music apps for offline listening. It gives a new part of play speed control to adjust the playing speed of any music. Users can also play music files from another phone by connecting their phone via Wifi. It also has easy customization of the notification bar, volume fluctuations, beautiful layouts to attract the attention for operating the music files. It also gives an option of "FIND ON YOUTUBE" to find the video related to the music catalogue available in the app.
11. Hungama Music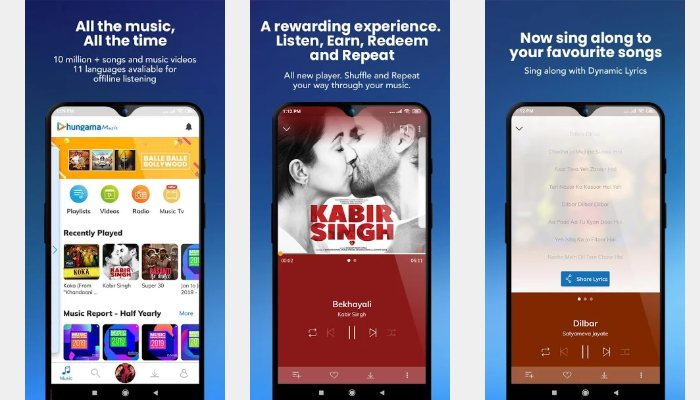 Hungama Music is another great app that does not need any Wi-Fi. The app is available on both platforms Android and iOS. If you want to have the taste of Bollywood songs, Hungama Music is perfect for you.
The songs on this app are very well-decorated. You can easily find various types of songs such as Romantic, devotional, Pop, Rock, Classic. Through this app, you will get ultimate taste of Bollywood songs. Besides, you can download songs as many as you want for listening offline.
12. Phonograph Music Player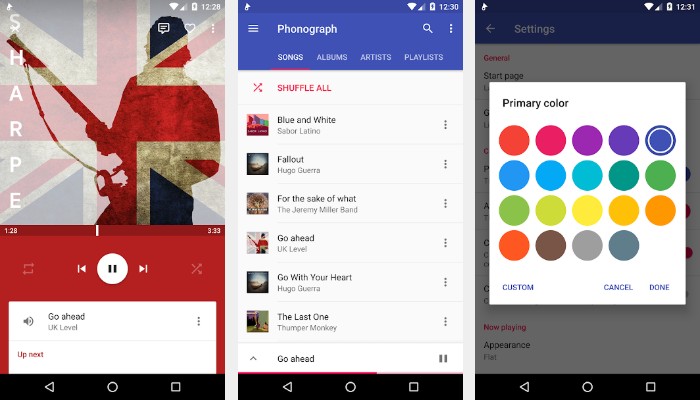 It's an open-source music player with fantastic-tune customization features. It has an eye-catching interface that looks relatively clean with the music thumbnails. Contents on UI perfectly match the contents to make the interface more responsive. Users can put music directly to the home screen and set custom locks for playback controls. The dynamic colours automatically change for specific text like Artist, Song Name, etc. Users can create a folder and add songs to the playlist to find any music file.
13. N7Player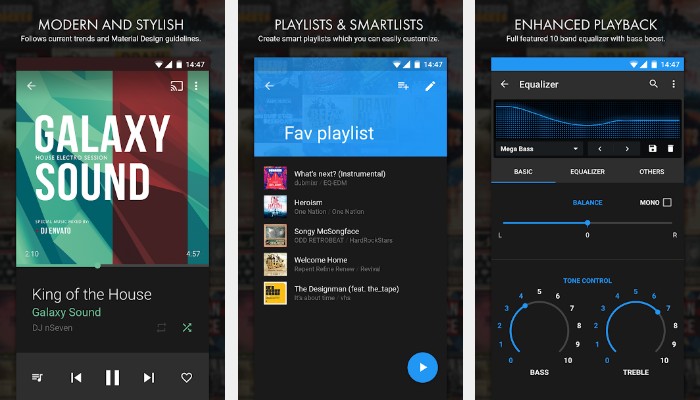 Powerful Equalizer and handy features make it the best music streaming apps in Playstore. It offers ten band equalizer that improves the audio quality. Every single element is customizable to make the app look unique. Users can add the songs and folder to the widget screen to make the search easier. It can auto-adjust the music with the surrounding noise to deliver clean audio beats. The home screen of the app can be customized from the setting option for enhancing screen visualization. Users can also set an old school library interface to get the benefit of the neat and clean features. You can connect it to Toostercast and play music from other devices. Features like Airplay and DLNA makes it the best music streaming apps for Android.
14. Poweramp Music Player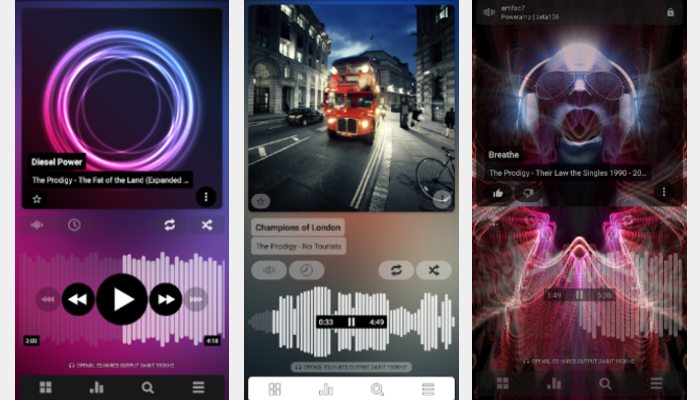 The power amp is a new audio engine that supports high-resolution music output. The volume customization feature for offline music play makes the music smooth with the newly revised tempo effects. Users can view lyrics at the same time of playing the audio files. Pro buttons come with light and dark options for creating a responsive click design on the home screen. It also has a mini-player feature to play music on the background. The menu panels and notification bars customization feature give a static look to the music list. All these traits make it the best free music player apps for android phone.
Conclusion: Best Offline Music Player Apps
Music player apps play an essential role in refreshing people's minds by furnishing a responsive interface and music playing feature. The above list of best offline music apps will help to make the correct choice according to your android phone. These filters of music apps for offline listening will assist to make a proper selection for the listeners. All these apps are unique with their feature and contain new methods of categorizing the playlist.