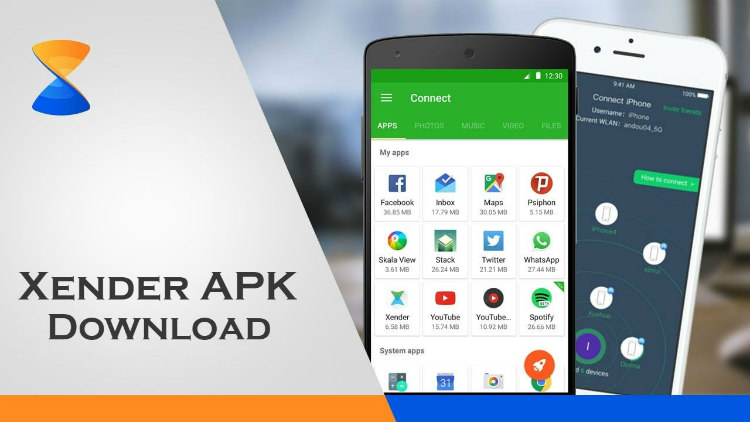 Xender APK Download 2019: Technology is prospering and so is the file transferring method. It is a fact that we had to wait much when Bluetooth was the only option to transfer files. Nowadays, we have so many file transferring applications available on Google Play Store that we sometimes get confused. Well, this article is going to help you to get rid of such confusion.
What is Xender:
Xender apk for Android is undoubtedly one of the best file sharing applications. Through this application, you can transfer files without using Bluetooth or mobile data. The application actually uses Wi-Fi Direct technology that lets your device connect with other device over Wi-Fi. In other words, the application actually creates a local Wi-Fi point by enabling the Wi-Fi Hotspot and the other device can easily make a connection just like it does with other Wi-Fi enabled devices.
Features of Xender APK :
Xender apk is rich in features and consequently, it has become one of the most popular file sharing Android applications. So, before downloading this, you must know the ley features which are mentioned below:
You will get ultra-fast file transferring speed which is around 40MB/s to 45MB/s.
Users can send all kinds of files such as pictures, documents, music, videos, applications and many more.
No cable is required to transfer files.
Xender comes with Smart Switch Mobile that lets you transfer all the data including contacts and SMS from your old device to new device.
The application also has built-in file-manager that lets you view the images as well as the videos before sending it to your friends. Moreover, you can directly play the received files through this app. You can also this file manager to delete files or take a backup by moving it to your external storage.
Another important feature of this application is that you can even transfer files to your PC. In order to do this, you have to install Xender application on your PC (Search on Google and you can easily find this). After that, connect your phone to your PC over Wi-Fi and transfer files wirelessly.
Language would not be a barrier as the application supports multiple languages.
Impressive user interface is another key feature of this application. Therefore, you will not face any sort of difficulties while operating this application.
The application also has QR codes and QR scanner. Therefore, you just need to open the application and scan the QR codes of another device and voila! Your device gets connected to it.
Xender APK – File Sharing App
| NAME | Xender |
| --- | --- |
| Size | 17.9 MB |
| Latest Version | 4.9.2 |
| Category | Tools |
| Downloads | 100,000,000+ |
| Supports | Android 4.0+ |
| Updated | December 2019 |
Download Xender latest 4.9.2.Prime Android APK

How To Install Xender App on Android?
Xender is completely a free application which was released on 19th July, 2013. The size of the application is almost 15MB and therefore, you can install it on any Android devices. The downloading as well as installation process of Xender APK is very simple. In order to download Xender APK for Android, you have to follow the steps mentioned below:
First, you need to enable 'install from unknown sources'
After that download the latest Xender file sharing apk file from the above link
After downloading the file, just open your file manager and search the file. Now tap on it and the 'install' option will be appeared on screen.
Just tap on Install and wait for some moments.
Done! Xender Apk is successfully installed.
Xender is completely safe to install and you don't have to worry about your privacy. Your personal data will not be hampered. You can send only those files that you want; without your permission, nothing can be shared. So, don't rely on Bluetooth, install Xender APK and share files instantly with your friends.
FAQ
Can we send files to Iphone Users?
Yes, Xender is available for Iphone users and therefore, Android users can send files to iPhone users and vice-versa.
Is it possible to send PUBG game through Xender apk?
Yes, you can send any heavy files using Xender. You just need to send PUBG apk and OBB files separately. Moreover, the other device should have more than 2GB of free space.
Can we use Xender if we don't have sim cards in our phone?
Xender does not require any internet connection. It uses advanced Wi-Fi direct technology and therefore, you can still use it if you don't have sim cards in your phone.