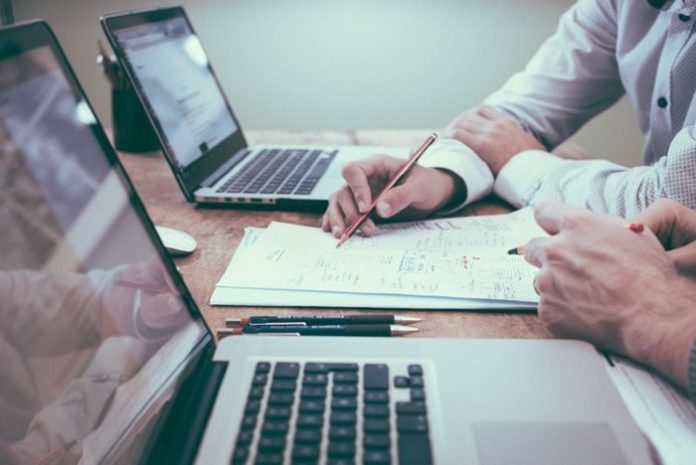 Invoice Generator – Invoice plays a more significant role in any type of business. Starting from a shop keeper to MNC, everyone gave billing details to their customers and employees to get confirmed about the sent or received payments. All of this structure is possible with the help of paid or free invoice maker that can send transactions data to the customer's email id. This post will let you know about some free invoice generator online tools that can generate free billing confirmation for your customers. The list of free invoice builder will give you an idea of implementing payment statements for your services. Businesspersons can send mail automatically or manually to provide invoices about their services.
Best Free Invoice Generators in 2022
#1. PayPal – Free Invoice Generator Online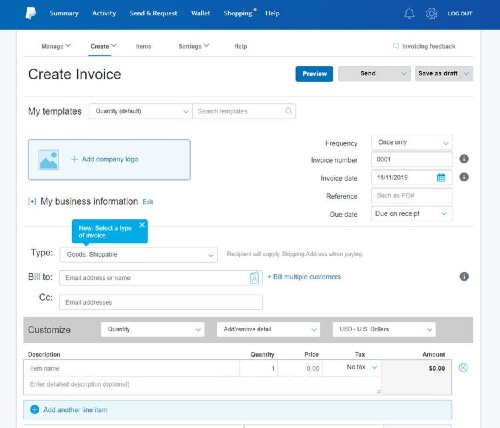 PayPal is an international payment gateway and a prevalent platform for online transactions. It has a free feature of sending invoices of payment made and received directly to the customer's email id. The mail received in the name of Paypal adds more professionalism to your business. Users only need to set original price, tax, charges once, and the whole procedure will depict the same command and format for generating and sending invoices. Manual invoice generator is also available where you can add your company details, logo, invoice number, bill date, customer data etc. The invoice template is free to use until your sales exceed a transaction of $3000 per month.
#2. Invoice Home – Simple and Free Invoice Maker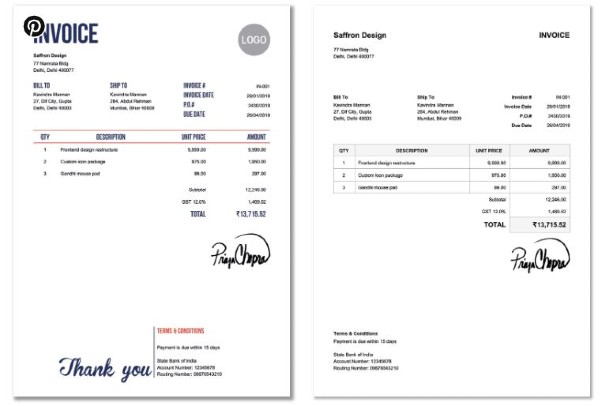 Invoice home comes with the most responsive tools for generating invoices online. It is free to use, but, the user needs to add transaction data manually for creating the billing information. The invoice gets downloaded in the form of pdf in your device. It gives different designing options to create a responsive look. Businesspersons can also put their logo and address to build a brand value in the mind of customers. Invoices can be generated from website, mobile or desktop app easily with a single click. It has millions of users worldwide as it supports more than 150 currencies on its interface. Users also can store their billing information in the could storage that will help them to know about the past transactions. You can also check Request Signature PDF
#3. ZipBooks – generate GST invoices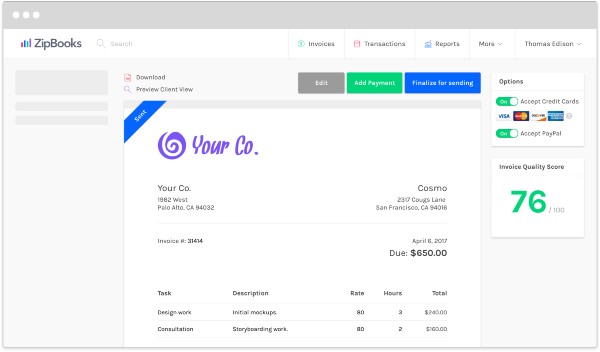 ZipBooks is an excellent invoice generator online app for small business owners. It provides a clean interface to track client texting, invoicing, full product data and lot more customizable features to generate. Different templates are available in the interface for managing diverse categories of business. The ready invoice can be exported via pdf, word or text formats. It also has an option to send involves directly to the email id of customers.
#4. Invoice Ninja – Invoice generator online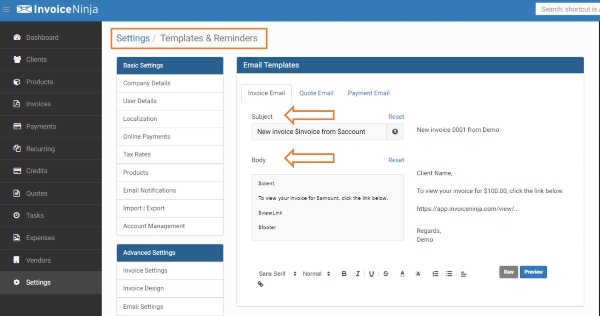 It is an open-source, free invoice builder online tool. The term NINJA used in the name confirms the speed of generating billing statements. Businesspersons can use it to create responsive invoices for showing their orders. It displays separate columns for showing options like debit, credit, expenses, client and product details in one interface. Users can also search invoices via name through the search bar given at the top right corner of the webpage. This free invoice maker keeps all records, including the date and time to provide more accurate information for excellently managing the business. Users can give different colour to columns for increasing the readability. If you want to create professional invoices, then you can use Zintego website to generate it quickly.
#5. Wave – Free invoice generator online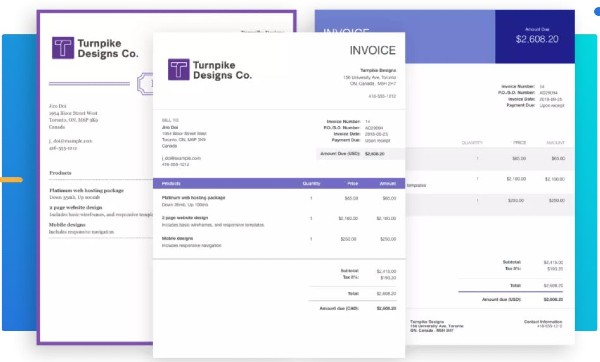 The procedure of generating invoices in the Wave is same as flowing of sea waves. It takes information like company logo, business name, client data etc. in a simple form. The business person has to go through three steps of setup, for generating the final inbox. It consumes more time in generating invoices in Waveform. But, the customer can get all the necessary information like business address, moto, similar products etc. in the invoice letter. The business person who wants to display full details to their customer can try Wave as an invoice generating tool.
#6. Zoho Invoice – Free Software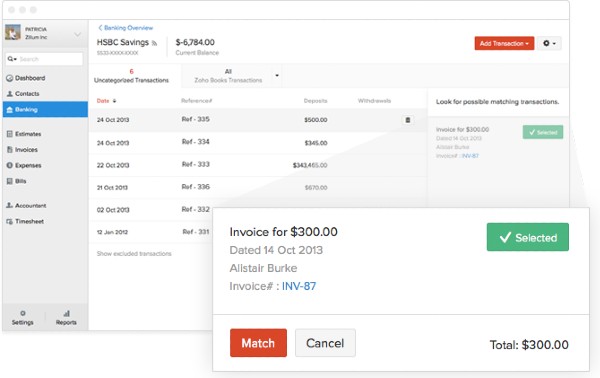 It is one of the oldest invoice providing service. Zoho has upgraded its service quality within the last decade and focus on making the invoices more responsive and informative. Some most satisfactory features of Zoho free invoice builder includes customer reminders, notifications at regular intervals, profit estimation, multi-language and currency support. It provides full transparency to the client for viewing timesheets, total charges applied, real-time sale report and a lot more in the login portal.
#7. Invoice Quick – Software for Free Invoice
It offers free invoice services and mostly used by professionals for generating sales report. Most freelancers and professional digital marketers use it for generating invoices for their clients and service. Quick and fragile invoices can be generated using this free invoice maker tool. This software is not available for mobile devices, and for these reasons, it is used among professionals for generating invoices. The desktop application is relatively easy to operate and doesn't drain more time to create the billing details. It also gives suggestions regarding managing the budget for improving your sales in the next step.
#8. Everhour – Best GST Invoice Generator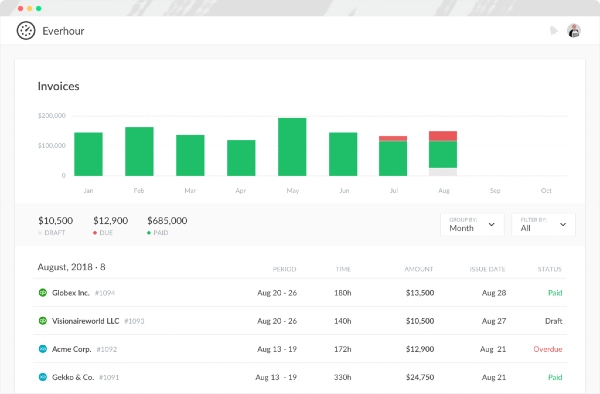 Businesspersons dealing with the GST, VAT and other charges must try Everhour invoice tool for sending transaction details to the customers. It offers an automatic GST, SGST, VAT like charges that will add up automatically at the end of the bill by identifying the principal amount. Every feature of Everhour is kept easy for generating faster invoices. It is a web-based tool that efficiently manages the client's transaction data inside the login portal of its website. The unique project management features like Trello, Basecamp and Asana make it very unique among other free invoice builder tools.
#9. Lucidpress – Desktop Invoice Tool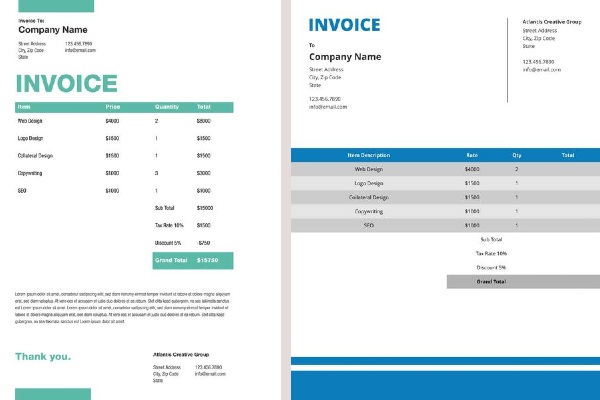 It is the most accessible tool for generating the best-customized invoices. The interface and options of Lucidpress are so simple that even a non-designer can make a responsive invoice template using the template design feature. Instead of data management, it helps in drawing extra attention from the customers. It supports the Drag and drops options which open up the hand for business persons to add new types of designs in their invoices.
#10. Moon Invoice –  Paid and Free Invoice Generator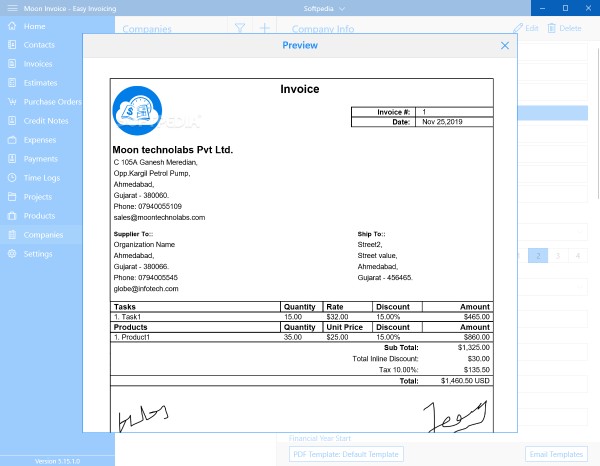 It is among the most advanced types of invoice generator but not exclusively free to operate. Moon invoice offers a free trial to its customer after signup to generate invoices up to a limit. The most widely used features of Moon invoices includes adding signatures, logos, templates, and different comprehensive tool. All the generated invoices get stored in the iCloud server to bring back the past invoices at any period. It also features to delete double data records automatically from server to save file storage. Like another invoice generator, Moon invoice protect all invoice data based on date, time, month and years.
Final words
Transaction records act as a base in any business for building recurring customers. Invoices are a part of a business management strategy that makes the brand value of any dwelling in the mind of the customer. Instead, it also gives a sign of professionalism to any business. All the mentioned invoice generator online tool is more reliable to use for running both online and offline business.