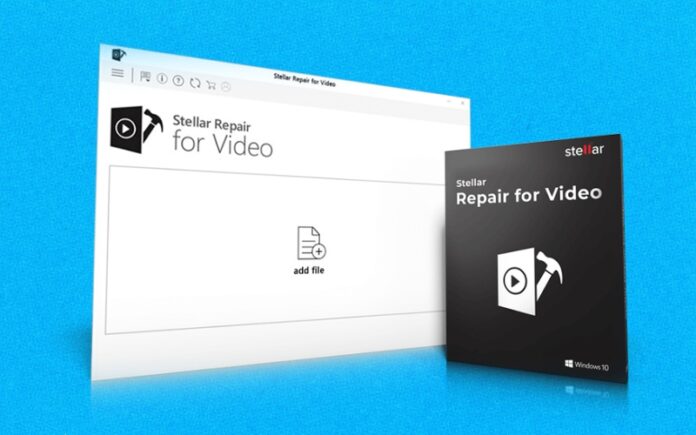 Are you having trouble getting a video clip saved in MP4 format to play? It doesn't matter whether you captured the video with a regular video camera or on your phone; there are instances when you won't be able to get it to operate appropriately.
Most of the time, by installing the appropriate video codec; however, what should you do if the video file is broken? This post will describe how to fix corrupted video files on mp4.
How to Repair a Damaged MP4 File?
There are no MP4 repair applications that are included with the majority of video editing tools, and Windows and other operating systems do not come pre-installed with these applications either.
The explanation is straightforward: MP4 files are notoriously tricky to fix. As a result, when calamity hits, we often do not attempt to restore damaged MP4 files.
Stellar Repair for Video can fix corrupted or unavailable videos on any storage medium, such as a camera memory card, memory stick, CF card, USB flash drive, SD card, SDXC card, SDHC card, hard disc drive, solid-state drive, or HDD.
This corrupted video file repair is compatible with all forms of storage media, including SD cards, USB flash drives, hard disc drives, solid state drives, and others.
Repairs video files that have been corrupted and then recovered from storage systems or media.
Fixes videos on DSLR cameras, camcorders, CCTV cameras, drone cameras, dashcams, point-and-shoot cameras, mirrorless cameras, Android phones, and iPhones.
Steps to Repair
The program known as Stellar Repair for Video is quite flexible in fixing corrupted mp4; it is ideal for repairing MP4 files. In addition, you may be able to repair damaged video files using it by converting them to a file type that is compatible with your device.
Installing Stellar Repair for Video requires you first to download it. Then, to repair the damaged file, use Stellar Repair for Video and do the following:
After installing, launch the software, "Stellar Repair for Video"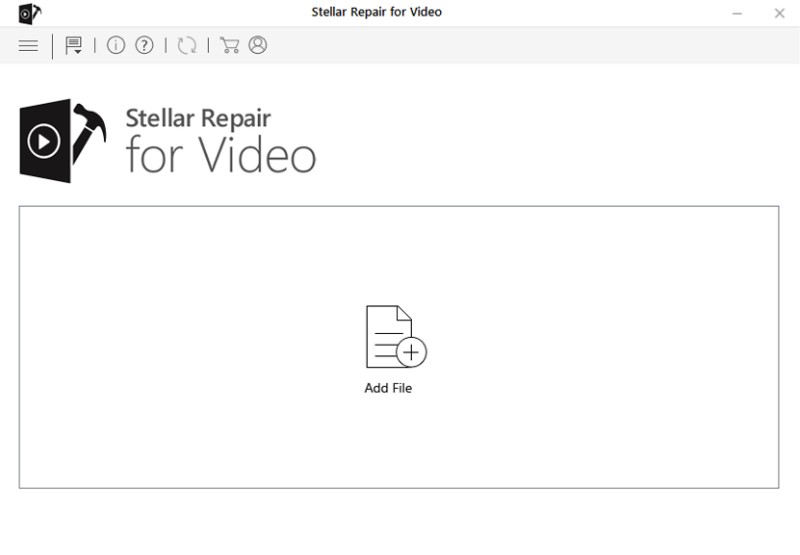 Select "Add Files" from the main screen.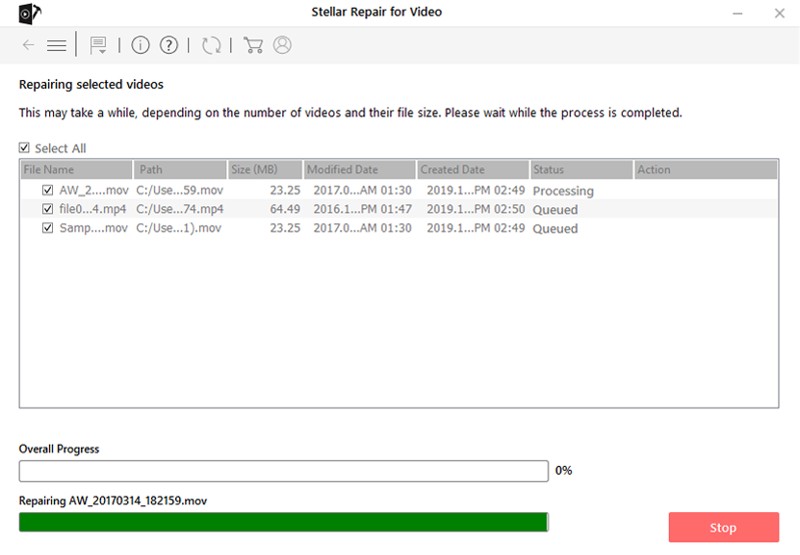 In the pop-up window, locate the corrupt video files from the explorer and add them.
After adding the corrupt videos, preview the repaired video files. The videos prompting for "Advance Repair" may need a reference video shot from the same device.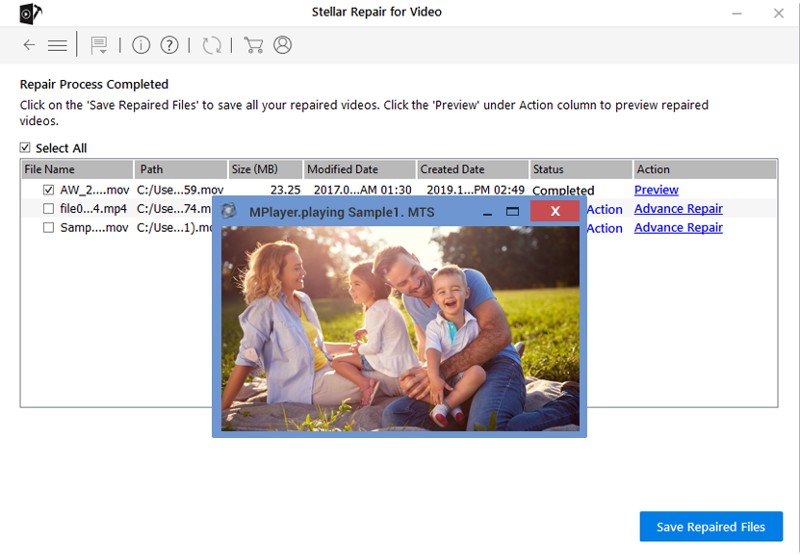 After previewing the repaired videos, click on "Save Repaired Files" and select a destination where you want to save them.
Additional Fantastic Characteristics
Comprehensive video damage fixer software for both Windows and Mac users
Stellar Repair for Video is a comprehensive solution for repairing digital videos, and it is available for Windows and Mac operating systems users. It fixes films that have been corrupted for a variety of reasons, including operating system failures, viruses, malware assaults, editing/recording/converting issues, inappropriate file transfer, and more. Additionally, the program supports standard video file formats, camera manufacturers, and storage media. It can correct various corruptions, making it the most effective digital video restoration tool.
Fixes Various Video Corruption Issues
This repair mp4 video mac program may solve a wide variety of video problems, including those that render the video unusable, stuttering, flickering, having a black screen, being out of sync, choppy, jerky, truncated, grainy, frozen, blurry, etc. The program can also cure video faults such as "error loading media: file could not be played" and "QuickTime Error," amongst other video-related errors. Finally, it fixes any corruption that may have occurred in the video frames, sound section, header, movement of movies, or video slider so that video playing is uninterrupted.
Videos of Repair Filmed on Phones, Drones, DSLR Cameras, and CCTV Cameras
The video fixer fixes videos taken with many cameras, including DSLRs, digital cameras, drone cameras, security cameras, Android phones, iPhones, iPads, and so on. Move the faulty video files from the camera, SD card, or other storage media to the computer and delete them from the camera. Using Stellar's Repair for the Video program, you may rapidly repair faulty movies on your computer.
Repairs Multiple Videos. Maintains many Videos' Quality at the Same Time Simultaneously
The Stellar Repair for Video program can concurrently fix an infinite number of video files, whether those files are of the same type or in a different format. And as a result, it offers a fast and hassle-free method to fix many broken, corrupt, or damaged video files without affecting the video's quality, integrity, or file structure.
The repaired files are saved in the location of your choosing.
The Stellar Repair for Video program enables you to store your repaired films in the place of your choice, giving you the flexibility to do so on any disc on your computer or any external storage medium. You also can save the videos once they have been fixed in their original place.
Downloads Are 100% Risk-Free and Safe
Stellar Repair for Video is an entirely risk-free application that does not include any viruses, malware, or Trojan horses. As a result, this video repair program may be downloaded for free on Windows or Mac operating systems without causing any concerns, and it can mend broken or damaged MP4, MOV, F4V, FLV, DIVX, and WEBM video files, amongst other video formats.
Assistance with any Digital Media Players
The program repairs video files that are corrupted and prevented from being played in media player software such as VLC Media Player, Windows Media Player®, Media Player Classic, MX player, PotPlayer, KM player, Winamp, QuickTime®, Mplayer, iTunes®, Adobe Flash Player®, and Real Player, amongst others. It gives a solution in need to make such video files playback as it should originally by repairing and fixing the readable data which the above media players fetch.
Provides Support for All of Today's Most Popular Video Codecs
The application for repairing damaged video files is compatible with all video codecs used in video file formats, such as H.263, H.264, H.265 HEVC, MPEG4, 3GP, Windows Media 8, Xvid, DivX, and JPEG 2000, amongst others.
Conclusion
Dealing with a corrupted MP4 file may be an exceedingly irritating experience; the corrupted files are never the ones that are eliminated throughout the editing process, so that doesn't explain why they never become an issue. Instead, it is usually the ones that you wish to utilize, store, or watch later on.