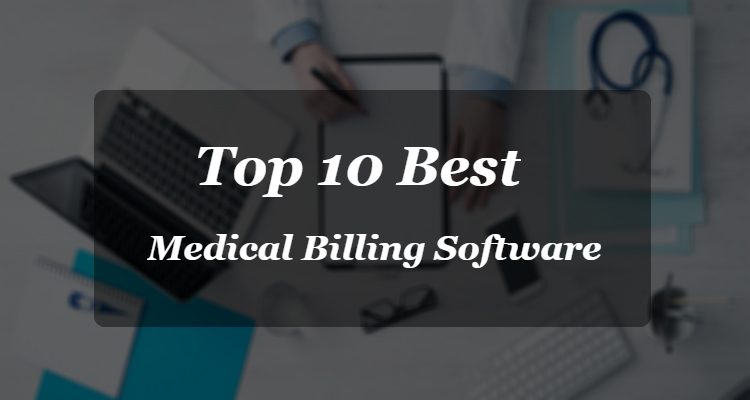 Hey ! Are you searching for best medical billing software list?  Here, We have shared list which you can use for your practice.
Medical billing software is something that you are probably looking for in order to simplify your workflow. Whether you are a practice or you have a clinic, medical billing software is a much needed tool for making your office more efficient. The usage of medical billing software is being increased rapidly because of its advantages. Some of its advantages are mentioned below to give you a proper idea about this:
In the process of invoicing, medical billing software play an important role and therefore these software make a huge difference between today's doctors and yesterday's doctors.
These kinds of software reduce paperwork. At the same time, it helps you to keep records of all your patients.
There is no need to hire additional employees, if you have medical billing software. Thus, it saves your money.
It also cuts down the number of errors. Humans might do mistakes while entering information into a computer system. But, if you have a pre-programmed medical billing software, it will automatically catch the common errors and give you perfect outcome.
Besides, medical billing software have opened the gate of opportunities for medical coding and billing professionals.
However, having right medical billing software will give you the best result. So, in this article, we will discuss about top 10 medical billing software:
Best Medical Billing Software in 2019
1. NexGen Medical Billing Software
NexGen medical billing software is one of the best platforms that offers comprehensive as well as integrates tool of technology. For home based business service, it is one of the best medical billing software.
An automated billing generation ensures easy billing and collection and that will surely maximize your revenue. Besides, it has an advanced tool for C.A.C.H.E rejections. If you want multiple billing options, this software will not disappoint you as it provides multiple billing through e-statements, hard copy prints, call or text. The claim processing is very fast and efficient. Another important aspect of this software is its 'due payment reminders' that will help you to manage cash flow.
2. Kareo Medical billing software
Another lucrative medical billing software for your independent medical practice is Kareo billing software. This cloud based clinical management technology would surely help you to maximize your revenue as much as possible. The software can be accesses through mobile as well as web. The negative aspect of this software is its user-interface that is quite complicated.
Kareo billing software offers endless benefits. The advanced tracking system, claim processing and payment solutions make the software very efficient. The software is capable of handling complex medical records. Along with this, it can also store patient's details and customizable reports.
3. Drchrono Medical Billing Software
Drchrono Medical Billing software is one of the best options to maximize your revenue. The software is rich in features. It has some options comprising of revenue recycling, customization of HER etc. It has completely cloud based electronic claim solutions.
Another important aspect of this software is its categorization of claims which are based on appointments, ERA denial and billing status. Besides, the claim submission process is very accurate as you can easily identify claim errors and it can be corrected before they are being processed. In short, it must be said that the innovative functions that this billing software consists of are so useful that it makes inputting, processing, tracking and retrieving of claim history very simple.
4. Practice Suite Medical Billing software
If you want a cloud based medical billing platform, Practice Suite medical billing software is perfect for you. It supports up to 61 HER and 150 medical billing software specialties.
The management system is very impressive as it garnishes all the activities into one location for the patient- CRM, engagements etc. Besides, there is an important aspect of this software and that is single sign-in option. It allows you to sign in from anywhere for getting all accesses. Therefore, you do not compulsorily need to sign in from your office. Practice Suite medical billing software has a very attractive dashboard and it provides complete user coaching guide so that you can operate it very easily. It is also very easy to install and you need not worry for installation process.
5. Carecloud Concierge billing software
Carecloud Concierge is medical billing software that particularly focuses on four areas which are specialized medical billing, billing collections, appointment scheduling and remittance of every payment cycle. This is perhaps the best medical billing software for home based business because of its user-friendly interface and agile servicing.
This web-based platform is a perfect combination of practice management and revenue cycle management. Therefore, it is effective not only for NPIs but also for multiple corporate medical firms.
6. EClinical works
EClinical Works or ECW has a very large user base and it is very good medical billing software. Though it is recently entrapped in a MU controversy, it is still being used because of hospital affiliation. Many medical billers as well as medical billing services that are deeply acquainted with it are using this ECW system. So, if we ignore the controversial fact, this software will not disappoint you. It is one of the best medical billing softwares that offer HER practice management system. So, you may go for this.
7. Advanced MD
Advanced MD is out and out risk-free medical billing platform that has very good amount of users. It offers medical billing as well as HER software. Advanced MD comprises of most advanced revenue cycle management feature that will help you to maximize your revenue. Therefore, it becomes very prominent and you may go with it.
8. Collaborate MD PMS
Collaborate MD PMS is another good medical billing software. The software is rich in features and it is very affordable. The starting price of this software is 165$ per month. Basically, Collaborative MD is a completely cloud-based, medical billing and practical management software that is popular for its efficiency. Besides, the software comprises of some rich features like claims management, compliance tracking, dunning management, invoice history, practice management, remittance advice etc.
9. Allegiance MD
The medical software of allegiance MD is made for medical practices and clinics of various sizes. Allegiance MD was founded in 1998. This medical billing software is completely web based and it uses artificial intelligence for imparting better service.
The software consists of a good amount of features which are patient eligibility check, dunning management, claims management, remittance advice, and invoice history.
10. HPlus Pro
HPlus Pro by Healthpac computer System is one of the best medical billing software. It is quite difficult to complete the list without mentioning the name of this software. It was founded in 1981 and the company provides 24/7 live support for its users. The software is very affordable as the starting price is only $275.00/month. Some of its important features are claims management, dunning management, payment process, invoice history, remittance advice etc. Ultimately, the software is perfect for home based medical practices.
Conclusion
In conclusion, it may be remarked that using best medical billing software will not only enhance your performance but also give you a competitive advantage. Therefore, this article consisting of top 10 best medical billing software would surely be a helpful one for you.