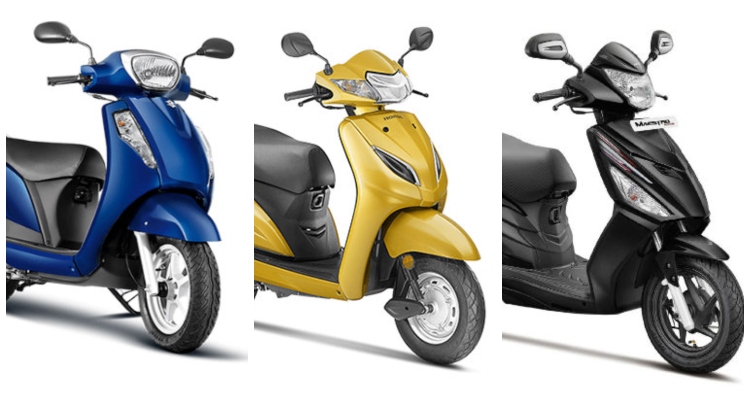 Women empowerment has opened many new dimensions in India. In that scenario riding a scooter or bike is not a taboo at all. Many girls like to ride and own lightweight, low height two-wheelers for their regular use. The manufacturers also take this as an advantage and taking interest in making lightweight scooters for girls in India.
The light weight scooty or say gearless scooters are the perfect solution for all those girls to hit the road quite conveniently. All these scooters are lightweight and come with a decent price tag. They are also good in mileage and comes with a sleek and exciting design.
It makes the girls self-dependent and allows them to live their life in their own way. Here we have come up with a list of top 10 best lightweight scooty for girls in 2021. Go through the description that focuses on its make, specifications, features and much more. Choose the best one that matches your requirements and suits your budget.
Top 10 Best Lightweight Scooty for Girls & Women in India 2020
Yamaha Fascino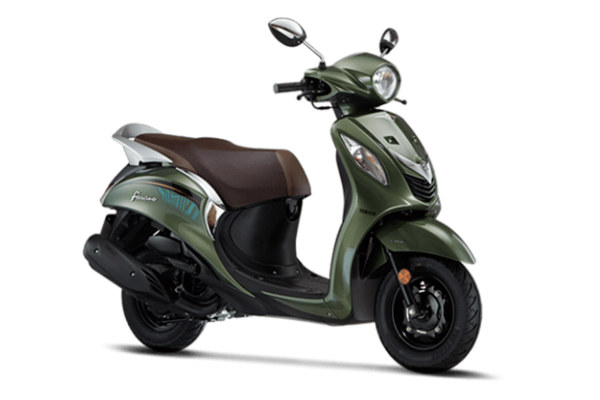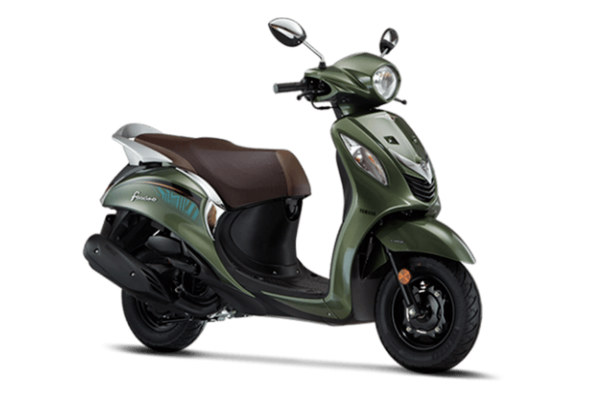 At this current time, the Yamaha Fascino is a great choice for every girl in India. Yamaha in this two-wheeler segment offers a wide range of color options along with tempting design.
It is powered by a 113 cc engine with single-cylinder air-cooled feature and comes with 7bhp as well as 8Nm of torque. It offers a mileage of 66km per liter.
The Yamaha Fascino has received the award of best selling scooter of 2021. The main advantage of this light weight scooty for short ladies, is its fuel efficient 110 cc engine and its look. It also houses a telescopic suspension up front.
TVS Scooty Pep+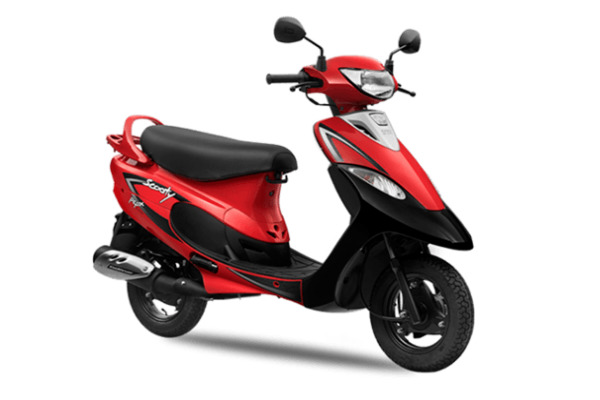 The TVS Scooty Pep+ is a household name in India. It is also the first two-wheeler for girls. It is lightweight and quite easy to handle for any teenager.
This gearless scooter comes with a low displacement quality and provides an 87cc engine along with four-stroke technology. Its air-cooled technology makes it a great choice among the girls which sustains on the bumpy roads without any hassles.
The TVS Scooty Pep+ comes with a weight of 95 Kg along with sleek design. The attractive colors and design make it one of the best scooty for girls in India.
3. Honda Activa 5G
The Honda Activa is another prevalent name in a country like India. The Honda Active 5G is the upgraded version of all its previous versions an comes with a 110 cc engine along with 8 bhp power. This scooter weights around 109 kg and comes with a height of 1158mm. it furnishes an automatic gearbox and provides a mileage of 60 km per liter.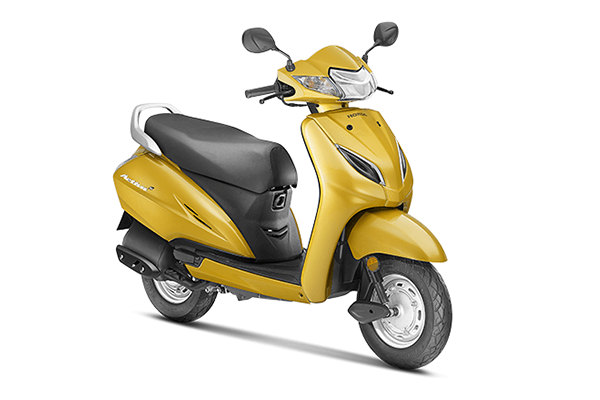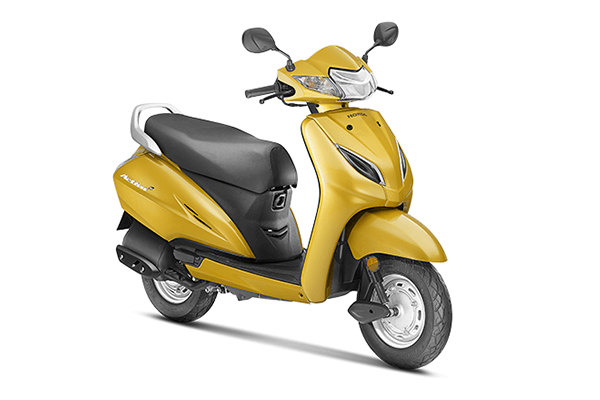 With V Matic transmission Honda Activa 5G comes with a fuel tank capacity of 5.3 liters this is one of the best scooty for girls.
4. TVS Wego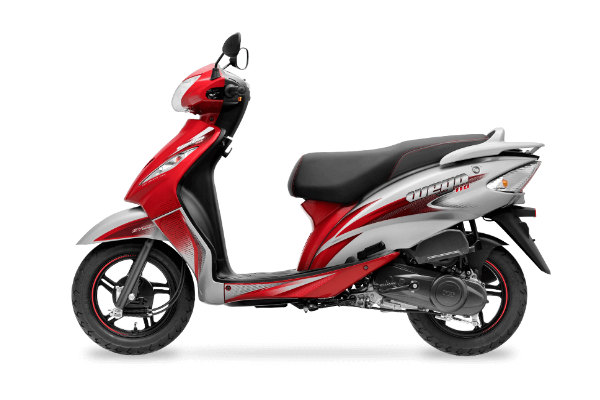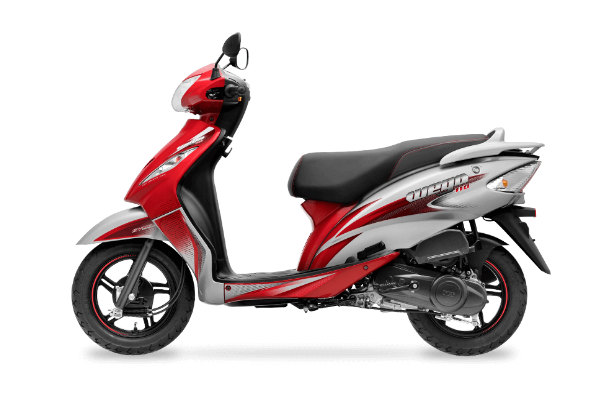 TVS Wego furnishes all those requirements which can be a great option for girls in India. It comes with a 110 cc displacement and weighs around 108 kg. the height of this scooter is 1115 mm which is quite good for girls and teenagers.
The all-aluminum engine with a peak power of 8.1PS at 7500 rpm and 8Nm of torque makes it one of the best choice. With a mileage of 40 km per liter, its engine furnishes automatic gears.
The front and rear brakes houses 130mm drum brakes and you can also go with disc brakes. The suspension of this scooter is telescopic and its first-in-class gas filled rear shock absorbers are excellent for stability and safety.
It furnishes V Matic transmission and the tank capacity is 5 liters and popular as one of the most efficient and less weight scooty for women.
5. Hero Pleasure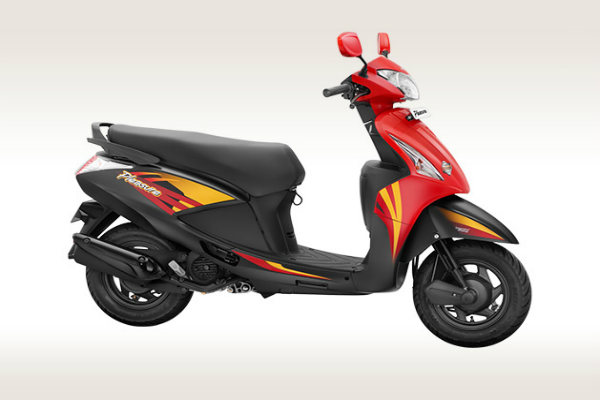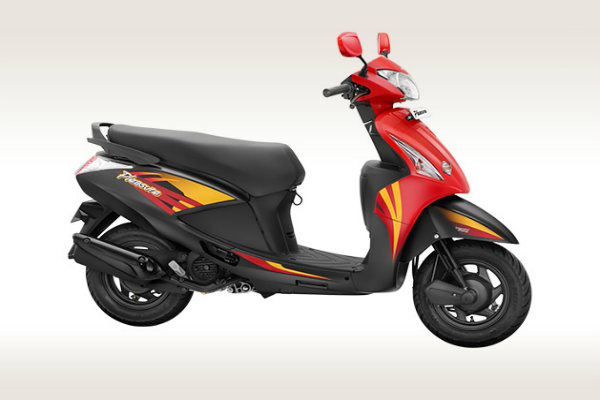 Hero Pleasure is completely dedicated to girls. Its tagline itself targets the girls in India. It is a popular choice due to its sleek and lightweight feature. It is also a powerful scooter variant with its Air-cooled, four-stroke single Cylinder OHC engine.
It comes with a 102 cc displacement and furnishes 7 BHP at 7000 rpm power and 7.85 NM torque at 5000 rpm during the ride. This scooter from Hero comes with standard as well as alloy model.
This fuel efficient scooter model comes with with a return mileage of 45 km per liter and can go up to a maximum speed of 77 km per hour. For safety, Hero Pleasure comes with front springs suspension and swing arm with spring rear suspension. You can avail drum brakes in front and rear side. If you are looking for the best scooter for ladies along with low-height feature then this is the best option for you.
6. TVS Jupiter
TVS Jupiter is popular in India due to its vibrant colors and dual-mode driving options. The engine of this scooter comes with a displacement of 110 cc along with CVT-I engine technology and quite efficient.
It can reach 0-60 km per hour within 11.2 seconds and comes with power mode as well as an economic model for better control and fuel efficiency. This is a scooter from TVS which make your life easy.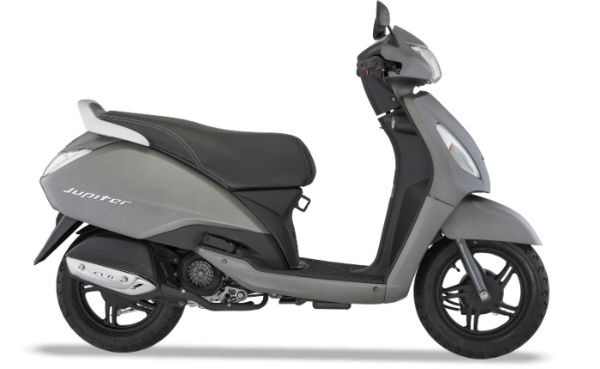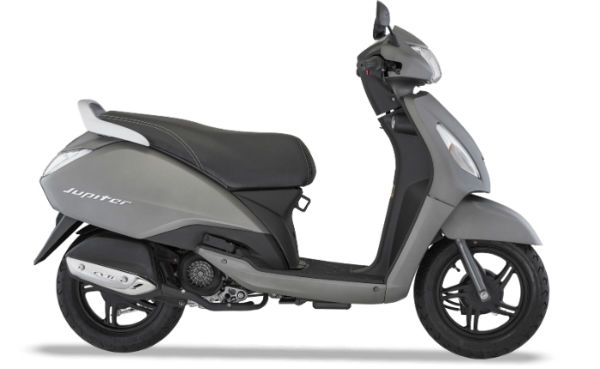 It houses an external fuel-filler cap which eliminates the lifting up your seat every time during fuel filling. It also saves much of your time. The pass-switch of TVS Jupiter is another important feature which helps you during night driving.  You can also fit a mobile phone charger with TVS Jupiter.
It can be a joyful ride with Jupiter due to its 12-inch tyres with alloy wheels and telescopic suspension. You can also choose a disc brake up front as per your requirement.
7. Piaggio Vespa LX 125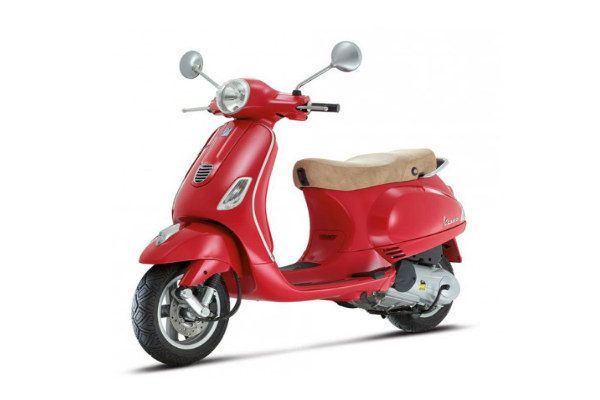 The Piaggio Vespa LX 125 is one of the most comfortable and dynamic scooters for girls in India. It is also the best in style and looks and comes with a weight of 114 kg. the scooter furnishes a displacement of 125cc and a four-stroke engine.
The scooter is coupled with Automatic gears and offers a mileage of 50 km per liter. The engine of Piaggio Vespa LX 125 spit out 9.92 bhp at 7500 rpm power output and 10.6 Nm torque at 6000 rpm on ride. You can ride this scooter quite comfortably and reach the top speed of 100 km per hour.
Piaggio Vespa is an eminent Italian scooter brand and has good recognition in India. It comes with six models, powerful engines and a variety of colors although bit expensive as compared to the other scooters in this category. The USP of Piaggio Vespa scooters is its appealing design and color.
8. Honda Dio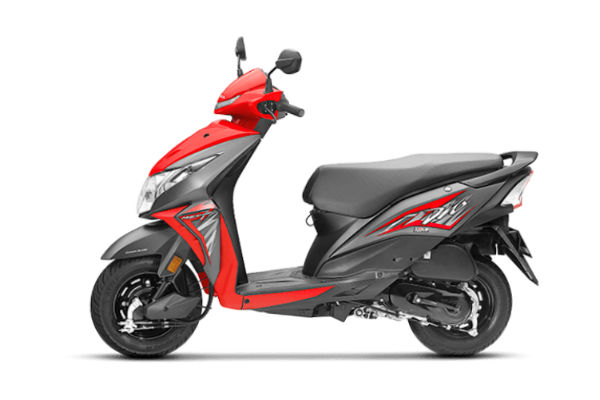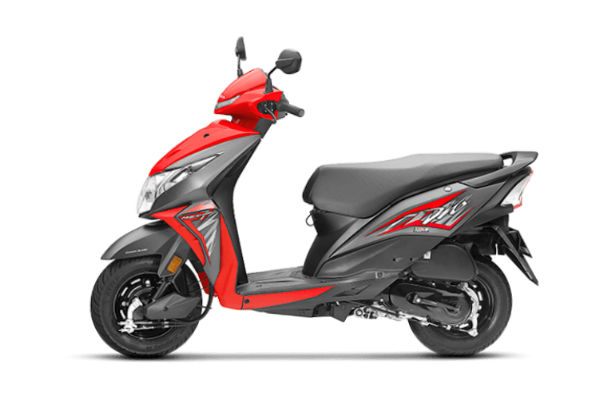 Another Popular model from Honda is Dio, which targets the youth and girls in India. It is also named as the best selling scooter models from Honda in India. The latest model of Dio offers appealing colors and CBS feature.
The scooter comes with a displacement of 109 cc, single cylinder air-cooled engine and provides 6 bhp and 8Nm torque. It is also paired off with a CVT gearbox. It weighs around 102 kg and provides a mileage of 66km per liter.
The Honda Dio is equipped with a BS IV compliant engine and comes with vibrant and appealing color schemes. The handlebar of this scooter houses a fancy LED strip and a mobile charging plug-point. The seat is also much wider to make your sitting comfortable.
The scooter is good and comfortable for you as a pillion also.
9. Suzuki Access 125
Suzuki Access 125 is not bulky or heavy like other 125cc engine variants. It is the lightest and one of the most stylish scooters in the category of 125cc models. It is the best-selling scooter model in India and compliant with BS-IV engine.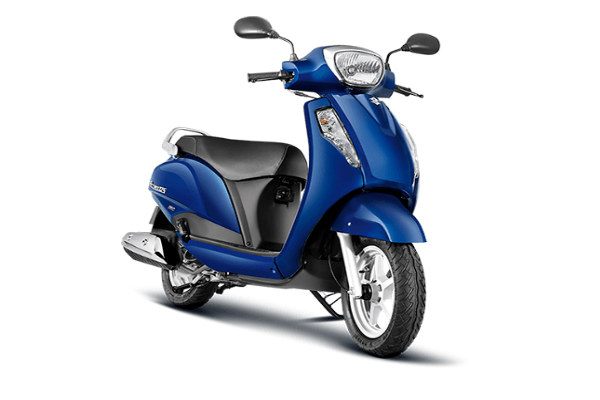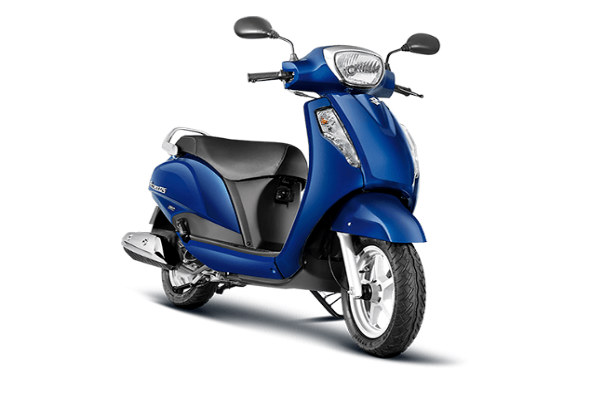 The output of this scooter is 8.6 bhp and 10.2 Nm torque on ride. It comes with front telescopic suspension along with disc brake option as well. It also furnishes a multi-reflector headlamp to enhance the night vision.
The scooter furnishes central locking system, maintenance-free battery, and tubeless tires also.
10. Hero Maestro Edge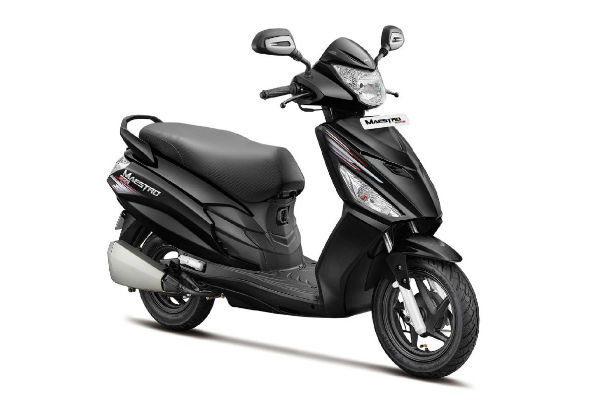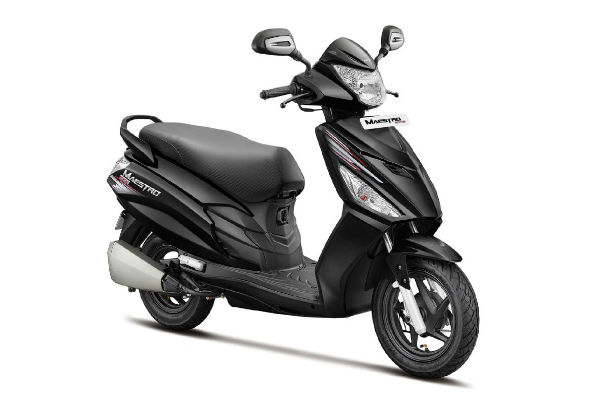 The Hero Maestro Edge is another largest selling scooter in India by Hero MotorCorp. This popular scooter model comes with a 110.9 cc powerful engine and offers 8bhp and 8.7 Nm of torque on ride.
The other crucial feature of Maestro is its telescopic front suspension, BS IV compliant engine with AHO and LED tail lamp. It also furnishes a 12-inch wheel up front along with a 10-inch wheel at the rear.
Conclusion: Best Light Weight Scooty for Girls
There are lots of weightless scooty in India for girls which helps them to carry out their day to day work. All these models come with a low-risk factor, and easy to ride feature. All these scooters discussed here are best in their class and equipped with effective features.
On the other hand, these scooters are quite capable of providing good speed, mileage, and ample storage space. The demand for an automatic scooter in India is escalating, so as the production by manufacturers by adding new impressions.
Hence go through the top ten best lightweight scooty for girls in 2021 here and watch out for the best light weight scooty with price and choose the best one for yourself by considering your requirements and budget beside its features. You can write to us for any query in the comment box.