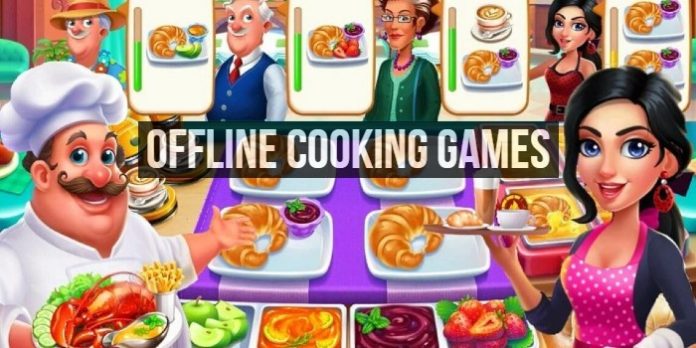 Digital games are one of the best stress-buster activities. They provide us entertainment as well as refreshment. They help us to strengthen our observations, auditory modality, and sight.
A person in a busy routine becomes so bored or dull that it may affect his health. Games are the best way for the nourishment of your mind. Games are also very helpful to kill time too.
Everyone has their taste. Some people like mind games, action games, etc. There are so many genres of games and one of them is Cooking games.
Cooking games are good for cooking lovers. Cooking games are online, offline, Free or paid too.
The Best 5 Offline Cooking Games to Play Offline
Here we'll be going to discuss the most-loving and top-rated offline cooking games:
1. Cooking Mama Let's Cook!
Cooking Mama: Let's Cook! is a series of Cooking Mama, has been created by Office Create Corp. on May 12, 2015. It is one of the most playing cooking games and has more than 30 million users.
Features:
This game has three characters; Cooking Mama, Appetite Papa, and You as a chef. Cooking Mama is your instructor while your father will judge your cooking. He is an extreme food-lover. You can treat your father with your specialty and get high ratings.
In this game, you'll get different challenges to accomplish. Papa will grant you some missions that you should achieve and get ratings out of 3 stars.
Several things are waiting to be rewarded to you, so play hard and increase your levels.
Making of Your Own Restaurant: Construct your restaurant and gather your customers there. If you cook well then number of customers will increase and vice versa. Make a worth-seeing and wonderful restaurants.
Harvesting Different Products: You can gather different items by fishing, yielding plants in the fields and feed the animals and gather meat from them.
Game Plaza: There are sub-games in this game that are not related to the cooking genre. If you are feeling bored of playing this game, you can play these sub-games for instance, "Help Out", "Play Shopkeeper" and "Exercise Your Brain" etc. There are more several kinds of mini-games that are present in this game.
Not A Chance Of Getting Bored!: This game gives you a never-ending enjoyment and pleasance. Complete weekly challenges, decorate your kitchen with various items. Introduce different dishes by combining different dishes. If you want to excel more, see more real cooking videos, and make anything here. For your entertainment, watch animated videos of Mama's fun daily life.
Visuals And Interface:
This game has a pleasant visual for children. It is not wrong to say that it attracts children.
When you click on this foremost game, you'll enter the main Home Screen. These home screen of the game contain the following options:
Notice: It contains different notices of different deals to purchase recipes.
Options:  By clicking on the "Options", a new window will be opened. Following settings can be made in this game:
Language:

In this option, you can change your English. Mostly, the English language is selected by default.
How To Play: It contains the user manual for the game on how to control it.
User Agreement: While playing this game, you have to follow the user agreement policy which contains some rules and regulations.
Let's Cook: This the main option where you can start playing the game. When recipes are listed, each recipe contains four options of Make, Practice, Combine and Look. If you accomplish tasks you can get Mama coins from Papa which may help you to buy various products.
Shop: You can buy products through Mama coins.
2. Toca Kitchen 2:
This is a unique style cooking game by Toca Boca on December 14, 2014. If you dislike the games on which you can make specified food and cannot make your experiments then this is the best choice. In this cooking game, you will have a simple interface in which a customer is sitting Infront of you. Judge their taste and make a meal. You can cut only salads and make different juices. It depends on you.
How To Play?
The gameplay of this game has a customer sitting in front of you. If you move to the left side, there will be a fridge having different products. Scroll up or down to have different ingredients that you can cook, blend, boil, and cut.
Make your own recipe or food and attract the customers. The ingredients also contain vegetables, meat, and fruits.
The reactions of customers are quite interesting when they disliked the food. In this game, you should have the ability to judge the customer's taste too.
3. Restaurant Dash: Gordon Ramsay
Restaurant Dash: Gordon Ramsay is made by Glu Mobile on June 27, 2016. It is one of the best ever cooking games. It consists of different seasons. In this game, a group of levels is named as Seasons.
Features:
In the initial stages, you have to customize your chef. Select the gender and looks. Afterward, start playing with the ingredients and make recipes as described. As your level increases and your mastery of recipes increases, more and more ingredients with tremendous rush and traffic of customers. Complete different missions and upgrade yourself as a rising star chef.
You'll have to face different chef bosses.
Complete the battle and increase your capabilities! 
4. World Chef

It is a story-mode game developed by Socialpoint on November 1, 2016. It has a beautiful story as an old chef was working for our grandfather. He will train you So, he took you to a new restaurant where you'll be trained.
Gameplay:
You will go to an empty place. First, you'll clean the restaurant and then set up the tables and a cooking machine. As your level increases, new items unlock, for which you have to place more cooking instruments. This game has another feature in which you have to buy ingredients.
The most unique feature of this game is that you can see other restaurants and customize your restaurant. The customer rush will also increase with increasing levels. Fulfill the missions to get achievements.
5. Cooking Diary

Cooking Diary is also a story-mode genre game developed by MYTONA on August 8, 2018.
It is also a story-mode game. In this game, our grandfather takes us to the land of tastes "The Tasty hills". This area is well-off because of the different and tasty dishes. The world's most famous chefs are present in The Tasty hills.
Gameplay:
First, customize the looks of your chef. You can choose any gender. In this game, you have to cook and achieve missions.
You can buy different interiors and exteriors to decorate your restaurant and upgrade your magical tools then its performance will increase. Although, you have to hire different waiters to deal with customer traffics.
Another interesting feature of this game is that you should be very careful while dealing with your customers so that your enemies cannot make evil plans to decrease your sales and endangering your good reputation.
You can make different branches of your restaurants and decor them. Super-stylish looks will help to gain the customer's attention.
Awards:
This game has been awarded different awards. Following are some awards:
Winner of the WEBBY PEOPLE'S VOICE AWARD 2020 for Strategy/Simulation Game
International Mobile Gaming Awards 2019 People's Choice Award winner
Constitution:
These are some top-rated games which are very popular in the world of cooking games. Download it and Enjoy it!