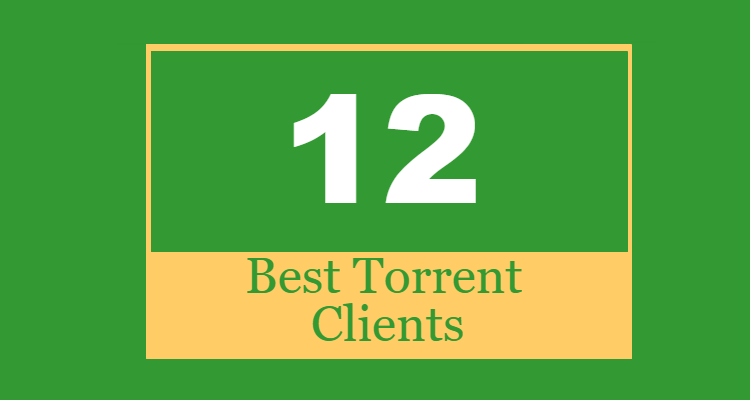 Downloading movies, TV shows, books or even software through The Pirate Bay, Yify or something similar? We've all been there. A hurdle that many users face often is – which client to use for maximum benefits. In this article, we will be reviewing the best twelve torrent clients.
The word "Torrent" is usually either frowned upon or smirked upon. The whole world's population is divided into several parts regarding whether they approve of torrenting or not. There's one part that believes that torrenting is illegal. There's another that believes that torrenting in itself is perfectly fine. There's a treacherous part of the population which says that torrenting is illegal but does it anyway. And then there are people who know nothing about it. Today, in this article, we are going to put all of their minds at ease.
To everyone that believes that torrenting is illegal; I hate to break it to you – but it's not. Torrent in itself is very innocent. Getting copyrighted material through Torrent? Now that's a different issue altogether. There are a lot of legal usages of a torrent. Giant companies including Facebook, Twitter and Netflix also use torrent to share mega files.
Let's take a look.
What is Torrent and How does It Work?
Torrent is basically a protocol. Protocol means an official system of rules. Whenever we use any website, we use the HTTP protocol. Just like that, when one wants to receive and send files, we use the Torrent protocol. With the use of torrent, users can share their files with the whole wide world. Torrent is based on Peer-to-Peer(P2P) networking. For example, a person named A has a file named myfile.exe. Now A wants to share the file with B. A will be uploading the file and B will download it. If C wants the file, C can get it from either A or B or both. So – in a nutshell, you don't need one particular server. Every user becomes a server. When you're using a torrent and you download a file, you automatically upload it right after downloading. You automatically become a seeder after downloading a file. Seeder means "a user that contributes to providing a file to the world". The interesting part is that every seeder contains a part of the whole file. When you download a file, you download different parts of it from different users situated in various parts of the world. If you download myfile.exe, you might as well be getting one part of it from England, a different part from the USA, another one from Singapore. Then, your torrent client will assemble these pieces into a whole and give it to you.
This, is where the torrent client enters the field.
What Is A Torrent Client?
We need an application send, receive, cluster and manage our e-mails, right? Just like that, a torrent client manages the torrents. It gives you the data of the files that you have downloaded or are downloading. It also gives you information about the seeders you're using. Some of the torrent clients commonly used are qBitTorrent, Vuze, uTorrent etc. We will be closely reviewing our personally picked 12 best torrenting programs.
Best Torrent Clients For Windows, Mac, Linux Users
#1. qBitTorrent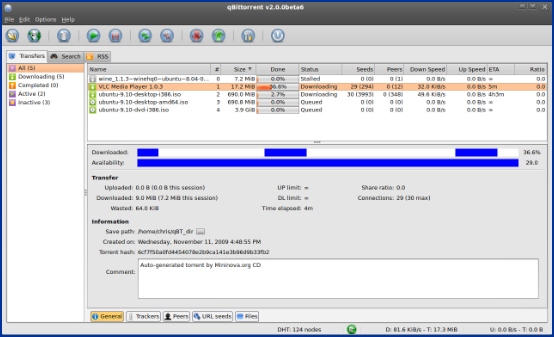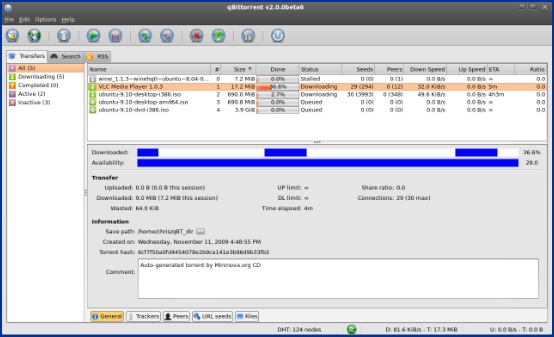 qBitTorrent is the most used torrent downloader all over the world. It is a free and open-source client with fast downloads zero advertisements. qBitTorrent manages to meet the needs of most of the people while using very little CPU memory. Even after decades of its initial launch, this client is regularly updated. The latest version of qBitTorrent is v4.1.5. This client is available on Windows, MacOS and Linux.
Installing qBitTorrent is a cinch. The installation does not include any extra files and is finished within seconds due to its tiny size of 15 megabytes. As a cherry on top, while installing, it also provides an option to determine whether you want your client to apply the Windows Firewall rule or not.
The display of qBitTorrent v4.1.5 is very simple yet loaded with features. qBitTorrent allows the downloading of multiple torrents simultaneously at a very fast speed. Essentially, the download speed depends upon the individual networks but the speed commonly reaches several megabytes/second very quickly. qBitTorrent comes with an integrated search engine, RSS feed reader and downloader. This client offers particularly good internalization. As mentioned before, it is very lightweight and barely eats up space in your PC. The torrent queueing and prioritising of qBit is easily the best. It has different tabs for different statuses of torrents – All, Downloading, Seeding, Completed, Resumed, Paused, Active, Inactive and Errored. It has a simple yet constructive interface. qBit displays the peer's information with their country and the hostname. qBit also offers advanced settings on torrent trackers.
#2. Flud – Torrent Downloader for Mobile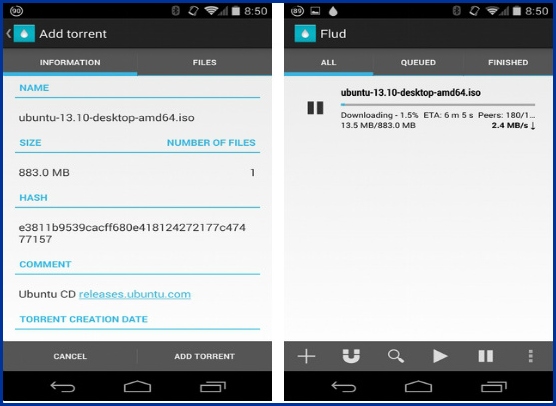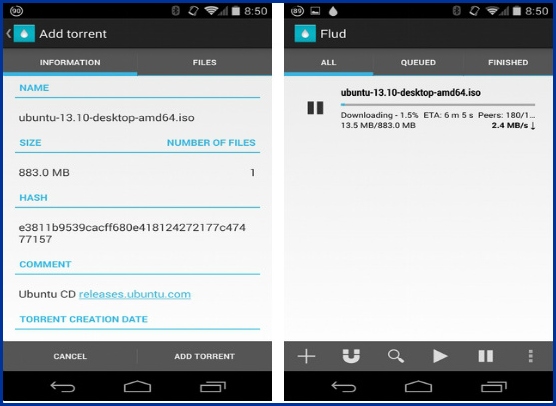 Flud is the next best ad-supported torrent software for your mobile phones. It is immensely powerful and intuitive. It works great on a mobile phone. It lets you choose which files of a torrent you want to download and in which folder of your Android. The Flud interface is highly customizable. It provides magnet link support and also recognizes magnet links from the browser. It has large file support and lets you know when/if you are exceeding your given storage space. It supports proxies like HTTP and SOCKS. This proxy support suggests that you can easily download any torrent anonymously without having to take assistance from a VPN. It supports encryption and plug-and-play. You can, however, pay to get Private Internet Access coupled with a VPN.
#3. Deluge – Torrent Software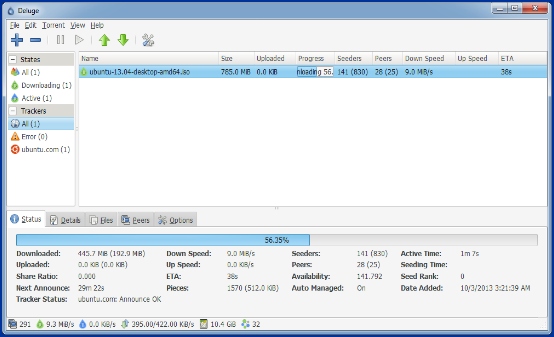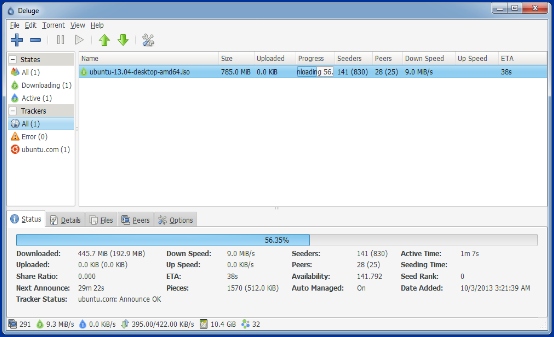 Originally released in September 2006, Deluge is one of the oldest and the best torrent downloaders. Deluge, like qBit, is an open-source lightweight client. The installation process of Deluge is almost similar to qBit. It's easy and fast, without adding any extra complementary add-ons while installation. We learned earlier that qBit is small and only weighs 15 megabytes. Well, Deluge tops even that, Deluge only weighs 34 kilobytes. Though unlike qBit, in Deluge, you manually have to manage the windows firewall settings. Even though it is strikingly similar to qBit in design, it is even simpler. If you are a person that doesn't dive too deep into the details of the torrent, Deluge is the one for you. It does not have multiple subtypes of torrent status, though you can add them from the settings. Along with allowing multiple files to download simultaneously, Deluge lets you set priorities to your downloading torrent files. Do not let the tiny size of this app fool you – it is just as fast on downloading.
#4. Vuze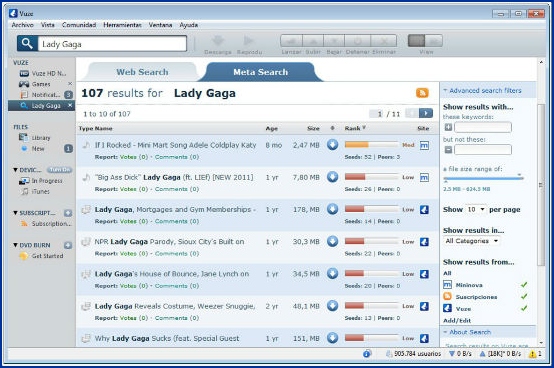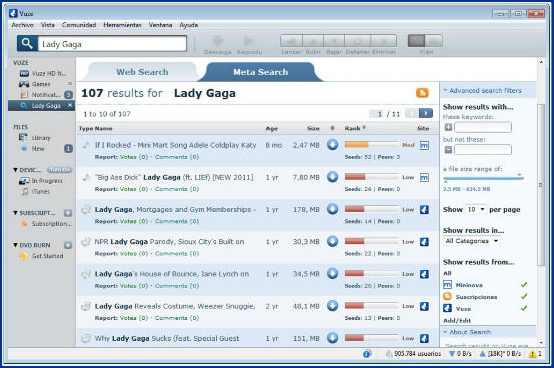 Vuze,formerly known as Azureus, is a torrent client that works on all Windows, Mac and Linux. It is also available for mobile phones. It has almost all the features that we've already seen in our former client descriptions. Vuze is available for free, but it also has a premium version called Vuze+ which provides ad-block, built-in antivirus protection and a feature that allows you to stream the media while downloading. The free version, however, provides almost all of the basic features including Magnet link support, media playback, integrated metasearch, access to the plug-in library, options for ultimate torrent control in the settings, remote control via web or mobile app and swarm discovery. Vuze free allows one free DVD burn and then it becomes a Vuze+ feature.
#5. Tixati – Best Torrent Client for Windows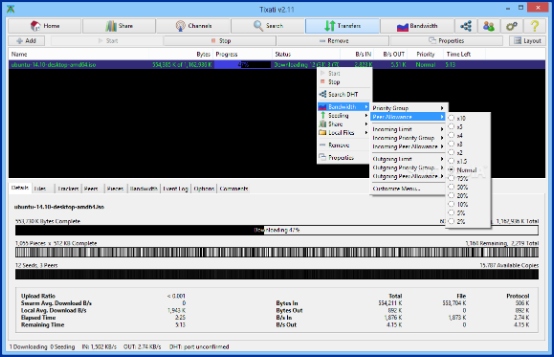 This client was originally published in 2009 and has been updated a few times after. Compared to the already simply expectations of a torrent client interface, Tixati can be considered highly basic. It does not provide joy to the sight. However, Tixati provides a lot of functions which are not available in other clients. In addition to easy installation, ultra-fast downloading, magnet link support, detailed bandwidth management and charting, it also provides a chatroom with private encrypted messaging. Tixati is 100% free and offers no spyware and no advertisements.
#6. BiglyBT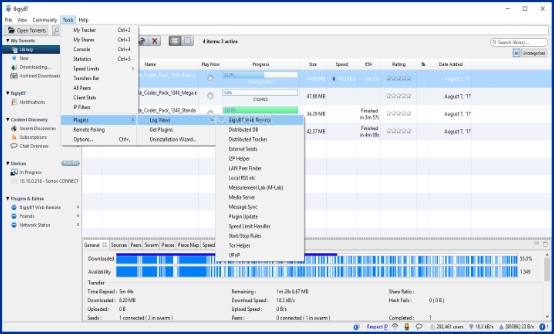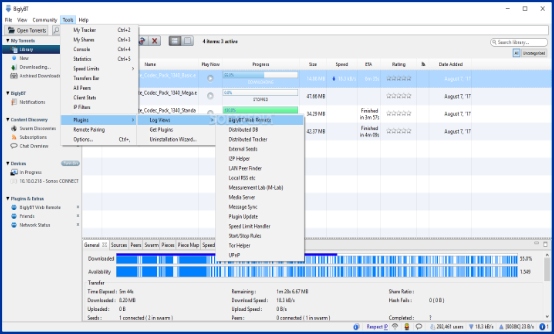 BiglyBT is a new open-source torrenting program which can easily be noticed as the alter ego of Vuze except BiglyBT is ad-free. It is developed by the developers of Vuze and Azureus. BiglyBT is the new favourite client of torrent users. It is easy to install, does not include any add-ons during installation. Apart from the obvious seeding and downloading features that were already a part of Vuze, BiglyBT provides – Swarm merging which allows the similar files in multiple torrents to get together and merge, Web torrent support, Remote control support through an Android application, tagging and creating categories, VPN detection, I2P support, media playback, media conversion and viewing ratings and reviews before downloading the clients.
#7. Halite BitTorrent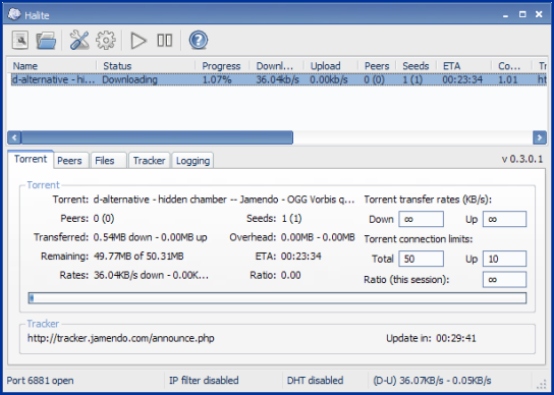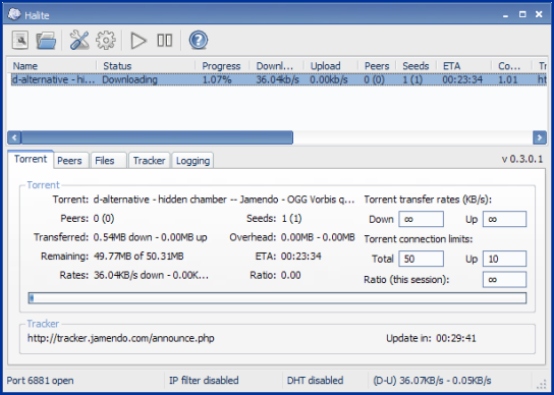 Halite, named after the mineral, is a C++ torrent client developed by Arvid Norberg. It is a lightweight client with all of the features that one would expect a modern client to have. It has all the basic features; it has a simple and elegant interface along with a queue list that displays details regarding the file. Some of the features of Halite include – file selection specifications, Magnet URI support, disk cache support, super-seeding, trackerless torrents, ability to follow trackers, ability to create torrent files, IP filtering etc.
#8. uTorrent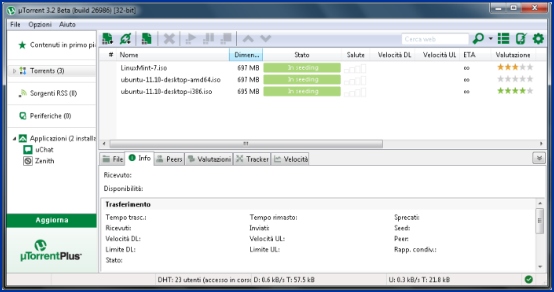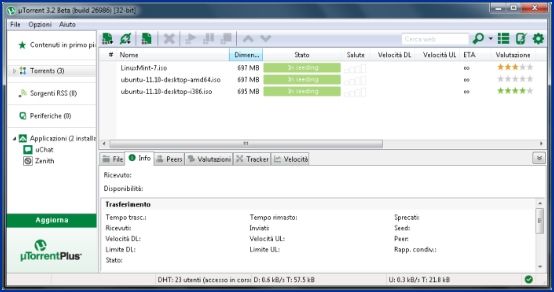 uTorrent used to be the most preferred torrent client but has now gone lower in the ranks due to the over-abundance of advertisements. uTorrent used to be an ad-free open-source client, which over the years changed and the developers introduced uTorrent plus. By 2012, users began to see advertisements and a lot of users changed platforms in March 2015, when the uTorrent program began building another application which would collect cryptocurrencies in the background and would send the money to BitTorrent. After an uproar from the users, the added software was discontinued but by that time uTorrent had lost a majority of the clientage; everyone had shifted to better options including Deluge or qBitTorrent.
#9. Transmission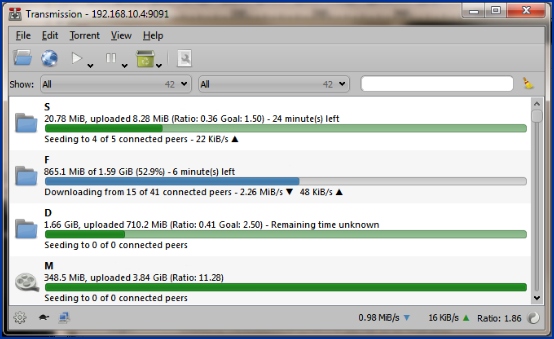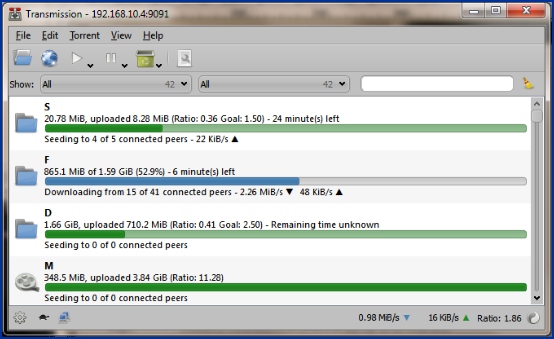 When originally launched, Transmission was only limited to Mac and Linux. Which, much to the relief of the users, was made available to Windows later on. Transmission is an open-source ad-free volunteer-based client. Its source code has been made available for anyone to view. It is super-lightweight and has the lowest memory-footprint than any other major client. Though Transmission stumbled into a major block in 2016 when its Mac versions were attacked with a ransomware application which captured all of the users' files and demanded around $400 to be transferred into the attacker's account. This certainly was not Transmission's fault, it still made the users salty about the security provided by them.
#10. BitComet – BitTorrent Download Client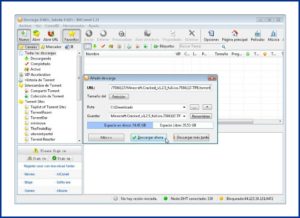 BitComet also is one of the oldest clients, like qBitTorrent. Though BitComet is not the best in the market currently, it surely offers some features that the other giant clients have not. BitLord, another of the classic torrent clients, was spawned from BitComet. BitLord lets you download the first and last bits of the file so that you can preview them before downloading the whole thing. It also provides an integrated search option and built-in video player.
#11. BitLord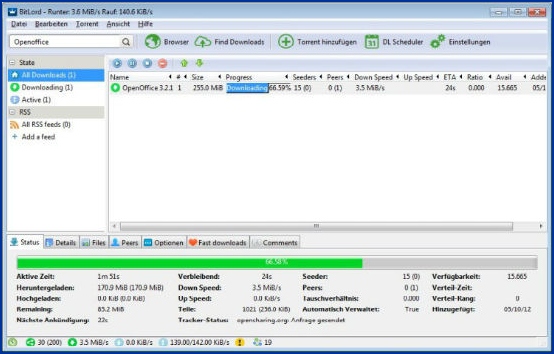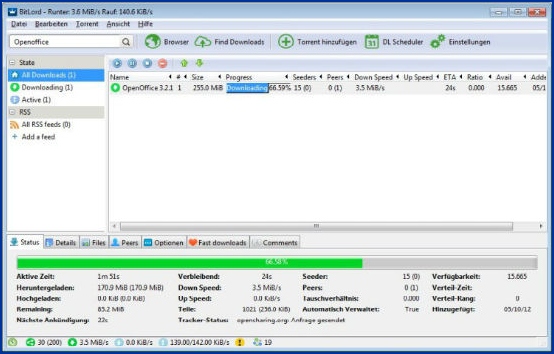 BitLord is an ad-supported torrent client which is available for both Mac and Windows. Originally released in 2003, BitLord, as mentioned before, spawned from BitComet. Besides the very obvious seeding and downloading features, BitLord also offers an in-built VLC media player to view files in the app itself along with subtitles support from opensubtitles.org. It also has an integrated search system with added features which allow you to read and write the comments. Users prefer open-sourced clients more over this feature-packed but closed-source platform. You could give this a try if you want to have better features and don't mind paying for them.
#12. LibreTorrent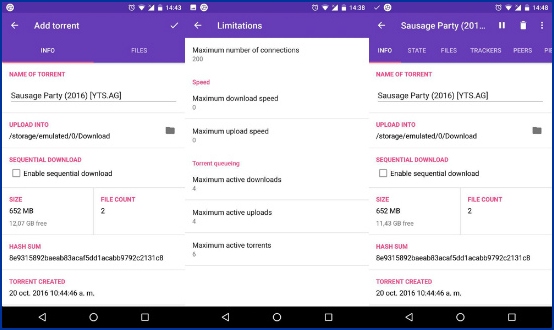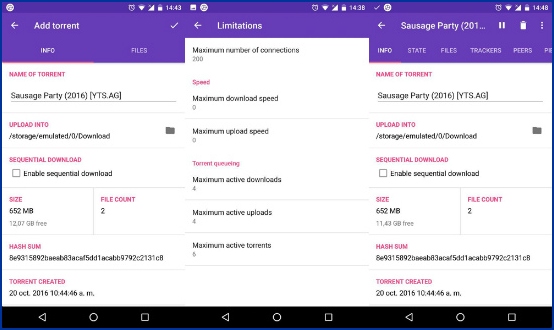 LibreTorrent is an open-source torrent client for Android 4 and later, based on libtorrent. LibreTorrent has a sober and customizable interface along with all the basic features including magnet link support, ability to move files during and after the download, support proxy, ability to specify file and folder priorities, ability to create torrents and a special feature, Android TV support.
Conclusion: The Best Torrent Clients
In a conclusion, torrent is a very innocent protocol, which has been made infamous by a lot of misinformed critiques. Not all of torrenting is illegal. And last but not least, after going through numerous torrent clients, we would strongly prefer qBitTorrent, BiglyBT or Deluge to be the best torrenting programs. BitLord is significantly better and more constructive if you're ready to spend money on Torrents. Enjoy Torrenting!