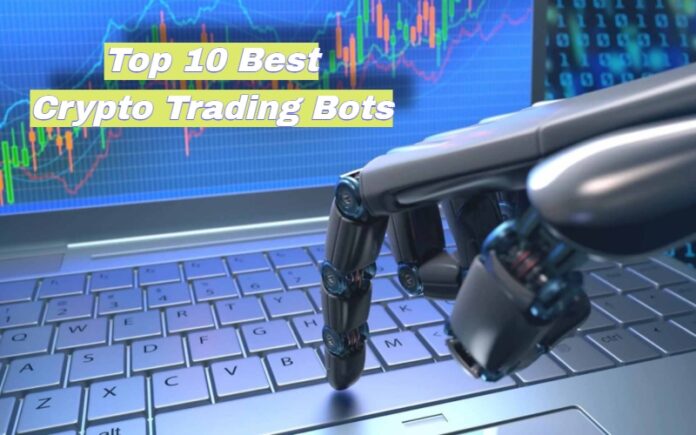 In the present scenario, many crypto traders wish to sustain in the crypto trading game. They use ideal trading bot to deal with trading effortlessly. A crypto trading bot is a good solution to manage trading activities. It is the best option to keep track of digital currency and make an informed decision about investments depending on automation and data. It is easy to automate trading strategy and strengthen profit.
The trading bot is ideal for every investor with a budget. A reputable cryptocurrency exchange, such as trading bot, is going to accept coins that have proven use cases and are currently being traded by individuals.
Top 10 Best Crypto Trading Bots (2023)
If you involve in trading activity, you can focus on the right trading bot. You can get actionable metrics from a bot. Here are the lists of trading bots for crypto trading like,
1. Cryptohopper:
Cryptohopper is highly demanding trading bot among many crypto investors. Social and automatic trading is a standard attribute in crypto bot. It helps traders to set up trailing orders to buy and sell based on price direction.
Dollar cost average feature assists people to invest gradually and overcome loss and risk. A professional traders use AI trading bot to promote bot strategy and concentrate on changing market conditions. It supports major exchanges like Coinbase and Binance.
2. Pionex:
It is a well-known exchange with a different array of currencies. Investors often use such a platform because of the built-in crypto trading bot. It comes with sixteen free trading bots for users. Users pick up the ideal one for trading activities. Pionex provides trading options.
Rebalancing bot
Leveraged grid bot
Margin grid bot
Martingale bot
Spot future arbitrage bot
TWAP bot
These bots are suitable for every budget, every strategy, and every level of experience. Trading fee is always low rather than major exchanges.
3. Altrady:
It is an all-in-one solution for crypto investors. Trading bot comes with lots of customizable tools and attributes. People easily automate and strategize trading whenever they like. It is a good portfolio management tool and helps you buy and sell on different exchanges.
Within the platform, investors keep updated with every movement in the market with real-time data. Aggregated news and journaling features help you take notes on the market. The quick scan feature tells users about the drop and rise in the market. It has great trading attributes, ranging from staples to advanced trading.
4. 3commas:
Professional traders gain huge benefits with 3commas. Customizable features make the platform more reliable and suitable for large-scale investors, companies, day traders, and entrepreneurs. When using 3commas, you have complete control of trading and implement the right strategy throughout the exchange.
Traders understand everything about trading easily with this platform and build strategy that fulfills trading requirements. The main aim of trading bot is to focus on short-term trading strategy. You need to alter the strategy you use for trading.
5. Mizar:
Popular trading bot manages direction connection with major exchanges like spot and future market. It provides a good marketplace for the bot where people copy successful traders on the platform. In that manner, you can trade like professionals within a few clicks.
Users easily diversify investment when learning. It is effective to automate the order with the help of the Mizar smart trading terminal.
An integrated trading view chart enables people to set their own trade on the chart, stop-loss, multi-entries, and profit.
Dollar cost average bot is useful for experienced traders to automate trading and manage risk.
Investors may also connect with the software platform or trading view with bots SDK.
A paper trading option lets users test their strategy.
6. Hummingbot:
Hummingbot is the ideal source to develop the trading bot easily. Market makers and professional liquidity providers use such a bot to create and deploy an ideal strategy. Apart from single-based strategy and portfolio management, you can automate activities, including market making, arbitrage, and liquidity cloning. Exchanges and institutions use these things to manage their own liquidity. It is completely open source in aids users to see source code and download software to the system.
7. Haasonline:
Haasonline is something different crypto trading pot today. It is the best option to keep track of automated trading over different ranges of exchanges. You can build a bot strategy or make a trade bot line by line.
When using this bot, people have a great ability to recreate several trading strategies ranging from accumulation to the scalping and future bot. It is a good source for traders to enjoy multiple exchange integration like Coinbase Pro, binance, and Kraken. It is available in free and premium subscriptions that meet trading needs.
8. Trality:
When it comes to this trading bot, investors must have proper knowledge and skills in Python. It is the best solution for Python experts who wish to code trading algorithms. Casual investors also begin crypto trading bots.
It is available with a code editor attribute for developers and allows them to manage coding skills. If you don't have coding skills, you can never worry about it and utilize the rule builder feature to create a bot. Technical indicator and Boolean logic is helpful to arrange and create a bot.
9. Cryptohero:
It is a good trading bot for people new to automated trading. With the help of advanced AI, you can create, test, and run bot. Paper exchange is a major highlight in the trading bot. The simulated paper trading attribute helps you test the bot before running it.
The Backtesting feature is excellent for testing your own trade before implementing the bot. It never requires coding skills and incorporates with different crypto exchanges. It is suitable for short and long-term strategy, triggers and indicators, range-bound trading, and dollar cost averaging.
10. Coinrule:
The crypto trading bot platform is good for new users. It is a great choice for traders of any experience and makes a profitable automated trading strategy. Users quickly configure bots with set trade rules. It lets users set precondition trade or choose an existing strategy.
Backtesting is a better way to fine-tune trading strategy before executing. It connects with exchanges like coinbase, uniswap, Kraken, binance, and Kucoin. Crypto profit calculator aids users to calculate strategy for investment.