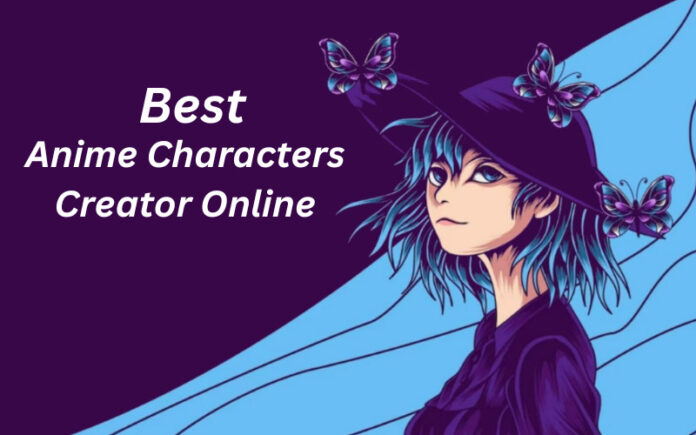 Arigato, my friends! Children and adults equally adore anime, making it one of the greatest well-liked and famous types of media in the modern day. Anime has a distinct color palette, colorful visuals, and an attractive art style. How does it feel to know that you can genuinely build your anime characters?
Yes, you may design your anime. It can be any anime or more realistic anime characters, but it will be your creation.
What is Anime and Anime Character?
We all know that the word, 'anime' is a Japanese word and it means animation. Anime basically refers to specific animations which consist of colorful graphics, vibrant characters and fantastic themes. 
Because of growing popularity of Anime, people now have a tendency to use Anime avatar for themselves. Along with the real world, there is another thing which is called virtual world. How it would be if you use your own anime avatar instead of using selfies. It is unique as well as attractive. Your avatar will be the representative of yourself in the virtual world. However, if you have not made it yet, and you are looking for an anime character creator, this article is going to help you.
Best Anime Character Creators Online to Make Your Own
Here are the top 15+ anime character creation sites & apps which are available for free and all paid.
1. Crypko Free Avatar Maker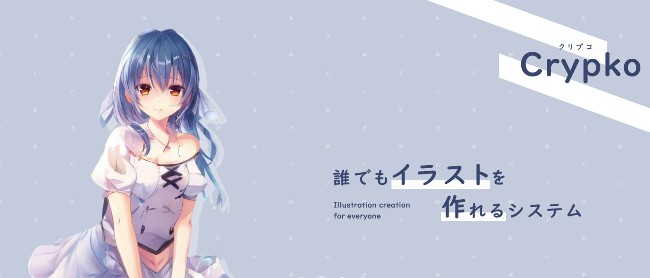 Crypko Free Avatar Maker is one of the best free anime character creators which will help you to create distinct anime characters with your own ideas. It will assist you in creating a customized anime visual image from scratch. It employs GAN, or generative adversarial networks, to create distinctive animation and immediately create animation characters of high quality. Utilizing this tool, you may buy Crypto cards, which are unique codes that can be used to create high-quality cartoon characters.
Pros:
This anime avatar generator possesses a GAN AI tool to produce the most realistic animation.
User-friendly for beginners.
Cons:
It is commercial use so it is not suitable for personal use.
2. MakeGirlsMoe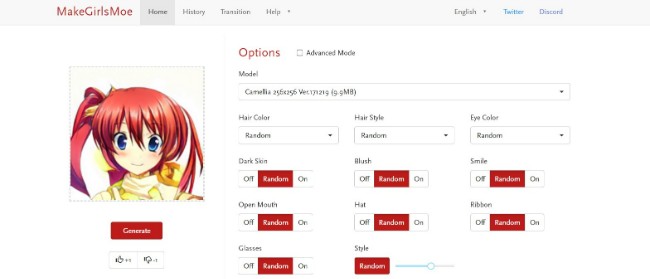 You may use this tool to make high-quality animation illustrations without the assistance of people. This is a unique website with extremely potent AI technology. You may customize your feminine avatar with this digital animation character maker. You have an exclusive option by switching to "Advanced Mode." which has more elite features. This anime creator is not like crypko whereas you can use this for personal use.
Pros:
It allows you to customize the avatars with a variety of possibilities.
It has the most effective AI tool.
Cons:
It is just for non-commercial use.
It solely generates female characters.
3. Charat.me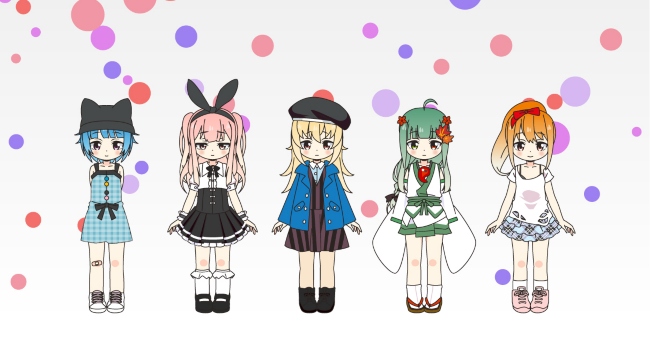 It is an anime character generator so if you want to create an anime figure for your own or business purposes, Charat. It is the perfect place to go. This allows you to fine-tune your avatar as you see fit. You edit the anime's eyeball color, clothing and whatever you wish to change. Furthermore, this website may assist with the creation of unique symbols and avatars.
Pros:
provides excellent creative options with several possibilities.
You may create completely distinct and creative icons.
Cons:
Females have greater customization possibilities.
4. Face your manga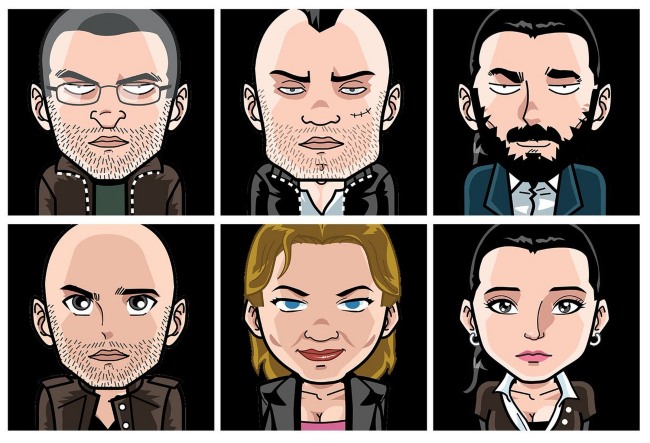 This is an anime character creator online which includes a plethora of options for making Kawaii anime! You may acquire a high-resolution image of your avatars as well as extensive tools to create anime avatars of your choice. It is often regarded as the greatest website for creating a fantastic full-body avatar. It is absolutely free! Another thing to note is that you may download your images and have these mailed to your home!
Pros:
It is completely free to use.
You can make cute kawaii characters with specialized options.
The avatar is simple to print and distribute.
Cons:
There are no hairdo customization options.
5. Cartoonify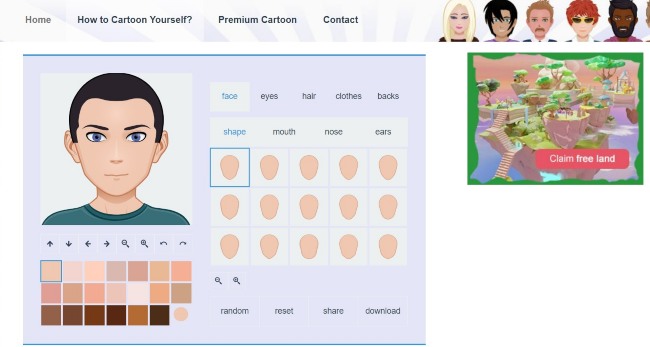 If you want to specialize your social network and other digital platforms, you can use this app to manage your animated profile picture. It is the best online anime character creator for you because it has multiple choices right for you. This anime character builder has around 300 modification choices and is specifically designed for the finest western animation. It also allows you to create your cartoon from the beginning with your ideas and personality.
Pros:
Excellent for social networking. developer of anime characters
It accepts male character choices.
Cons:
It can only generate anime characters from the Western world.
6. Avachara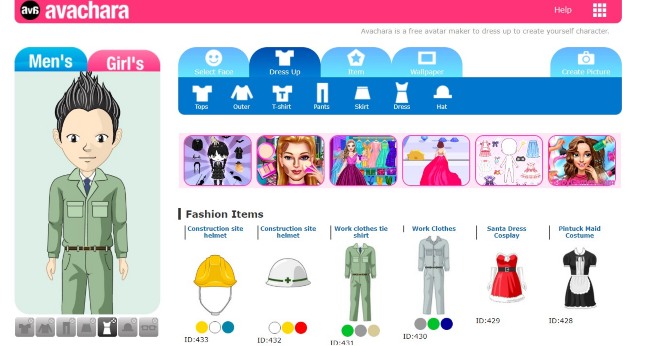 Avachara is a strong and excellent anime character designer that is completely free to use and may assist you in creating your animation character online. There is no requirement to submit a picture since it allows you to build a figure from the start with your ideas and work. Even if it is created from scratch, recommendations will be provided to help you.
It is a simple and powerful avatar builder that allows you to create entertaining pictures and avatars by selecting from a variety of face shapes, eye colors, shapes, lips, clothing, hairstyle, and backgrounds.
Pros:
You may design your own best anime avatars.
Male characters are also given equal features.
Cons:
You have to build everything yourself, which takes a lot of time.
7. Portrait Illustration Maker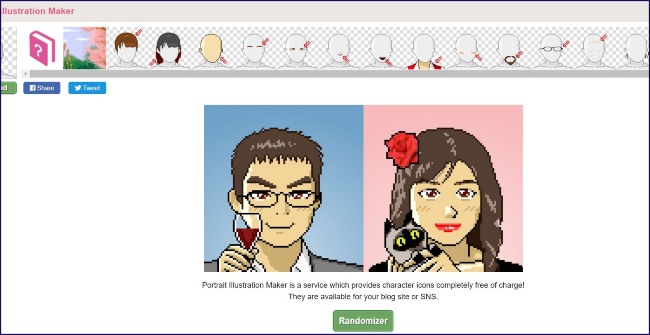 Portrait Illustration Maker is a fantastic tool that allows you to create visual animation icons for free and at your leisure. It gives the easiest method to make animation characters online using its AI capabilities, and the avatar generator anime website includes a "Randomizer tool" that helps produce characters at random. This animation maker site allows you to create your anime characters from scratch to express your individuality.
Pros:
To assist you, you may easily construct a Randomizer tool.
It is completely free of charge.
Cons:
It takes time.
There are fewer alternatives available.
8. Character Creator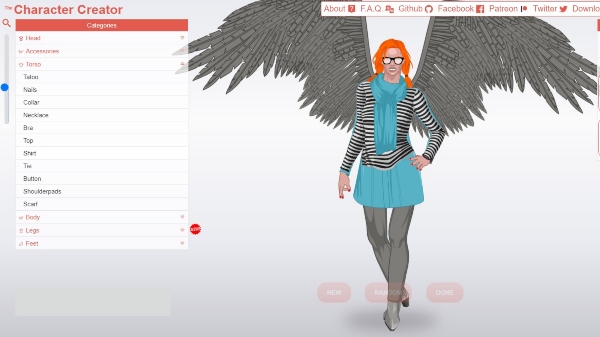 The Character Creator is an incredible featured program that is easy and user-friendly, and it will enable you to design both masculine and feminine avatars online, and it is completely free to use. It is a full-body avatar generator that allows you to create stunning characters for your usage. You may replace and modify the characters, and there is an internet page where you can design your anime characters. The site allows you to design anime avatars for free and also There is full-body animation accessible.
Pros:
This software is time demanding because you must design all of the features yourself.
Cons:
The female avatars are very muscular.
9. Custom Anime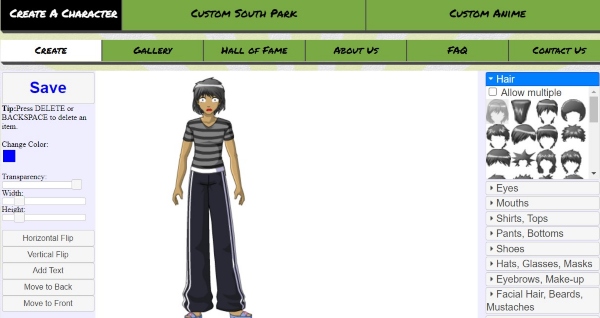 This is one of the greatest online tools for creating anime characters since it enables you to give each figure special qualities using simple tools. You have the freedom to alter the sexes, body modification, and clothing forms in your own space. There is also a download option that lets you save the image as a jpg. Image. And every one of these items is free! and this is one of the free avatar makers that is Simple and Clever. You have complete creative flexibility while making your avatar.
Pros:
It is completely free of charge.
Enables you to make your avatars.
Cons:
There aren't many choices available.
10. Bitmoji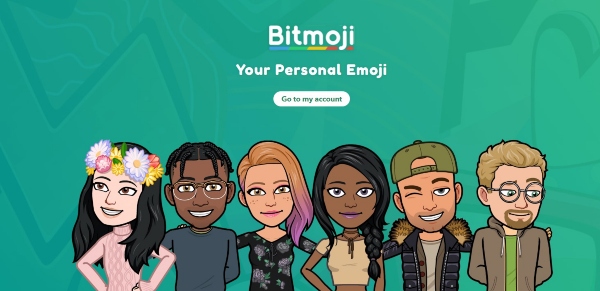 Bitmoji is the final name on our list of the top anime creators for 2022. bitmoji is one of the most famous and best anime character creators with its flexibility. You may create anime avatars and connect them with your pals thanks to it. Additionally, it features a vast stickers collection to paint a lifelike picture of you. While it is compatible with Snapchat, it is also accessible in other applications.
Pros:
Free software available for both Android and iOS.
Cons:
Not suitable for children.
Time-consuming.
11. Avatar Maker: Anime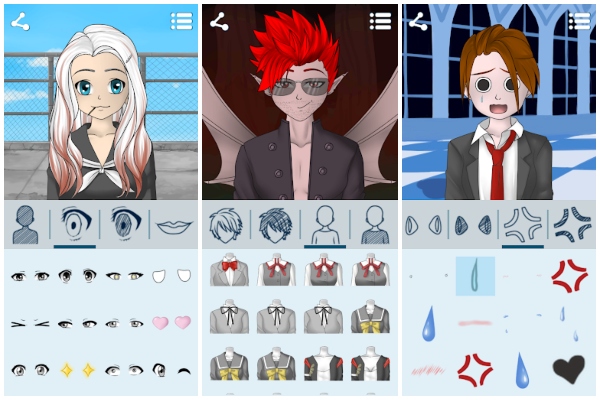 Consumers of iOS and Android devices can download. It has a number of interchangeable facilities.
It enables you to create your personal cute tales by adding your own figures from manga and comics. Your icon can be used as your personal picture as you can save that picture.
Pros:
Variety of variable color edits.
Cons:
12. SuperMe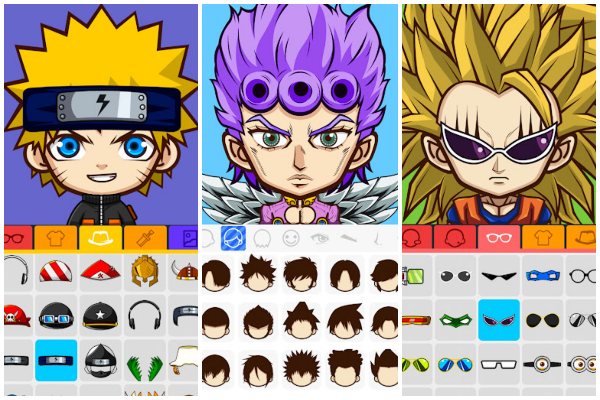 SuperMe is an app that is specifically made for ladies and It offers a variety of MOE materials for adding facial emotions. You may use this software to connect and mingle with other users while creating your own anime characters.
Pros:
You can establish relationships.
Cons:
Not user-friendly for people outside of the United States.
Sites to Create Anime Characters Online for Free
There are a lot of sites which allows you to create a cartoon a character, Here we have shared the most popular sites which helps to Creating cartoons or avatars from your perfect pictures.
13. Face Your Manga
Faceyourmanga.com is one of the best places that offer you to create your own avatar. It is one of the best anime character creators. The site is rich in features, and you will get everything that you are looking for.
Through it, you can add blemishes, birthmarks, band-aid, third-eye, scars and moles to your character. It also consists of an option that allows you to set your eyebrow according to your choice. Therefore, if you want to create anime characters, you must try this Picrew as well.
My Blue Robot is one of the best anime character creators that let you make your cartoon avatar online. This site has many interesting as well as unique options and the outcomes are really attractive.
Through this, you can add different types of eyes, mouth. You can even add bigger head by using the magnifying glass. Besides, there is an option that lets you set your eyes wider. Another important feature of this site is tilting. Through this option, you can tilt your head to create the avatar.
15. Picassohead
If you love Picasso and want to get the touch of Picasso in your avatar, this site is suitable for you. Picassohead has a special digital tool that imparts famous features drawn by Picasso. Through using these features, you can make Picasso-like paintings. Later, it can be easily transformed into avatars.
16. Pick a Face
Pick a Face is one of the most popular websites that are generally used to create anime character online. Pick a Face is very rich in features. Through using these features, you can give a new touch to your photo. Consequently, the outcomes become really outstanding. Therefore, if you want to generate high-quality anime characters, you must visit this site.
17. Dude Factory
Dude Factory is one of the best websites that allow its users to create their own avatar for free. One of the positive aspects of this site is that it consists of various outfits and body parts. Through using these, you can add a dynamic look to your character. Therefore, it must be said that if you want a free place for making avatar for yourself, Dude Factory would be best for you.
18. Avatarmaker
Avatarmaker is another best avatar creator which is completely free to use. The interface of this site is very user-friendly, and you can make your avatar without facing any problem. Through using this site, you can customize almost everything. Users can change the shape of face. They can even customize the eyes, hair, color and cloths of their characters on Avatarmaker. Therefore, if you want the best things for your character, you must visit this site.
FAQs
What is an app for creating anime characters?
All anime enthusiasts who adore animated characters may design their distinctive characters with the help of these programs.
Which are the free anime character creator apps?
These apps are free avatar creators :
Face your manga
Bitmoji
Custom Anime
Character Creator
These anime characters are considered the best and are 100% safe to use.
What is the best free avatar creator?
There are a lot of available anime creators available but the above 10 are the best anime creator generators.
Conclusions
Some of the greatest well-known literary personalities in the globe today are those from anime. Because of their distinctive and fascinating style, they are cherished by individuals of all ages. A fantastic approach to experiencing the realm of animation as a personality is to create your anime character.
Animation figures are wonderful to gaze at and possess their way of expressing themselves, so utilizing an animation character designer will keep the procedure simple and enjoyable. Individuals often portray themselves as the character from their favorite cartoon as their fame grows. Any of the technologies listed here may be used to make free internet Cartoon characters. Tell us which website you discovered to be the most helpful.