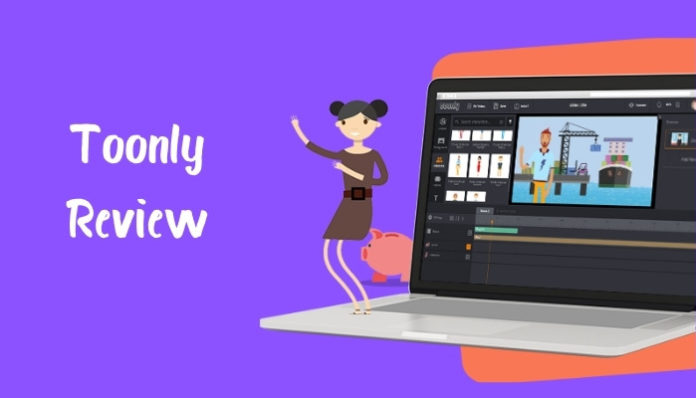 Doodly's founders have put in a lot of effort and have released a new explainer video software. Rather than a cloud-based SaaS, this is a piece of software that you purchase. As a result of this phenomenon, animated explainer videos have grown widely popular since they are simple to create. It's one of the few video-creation systems that has a drag-and-drop function, making video creation a breeze. It's an excellent piece of software that assists you in developing your brand's web presence and promoting your business through interactive components. It also enables you to target the right audience with engaging material.
As previously stated, Toonlyis a software and not an internet cloud-based platform. It enables you to easily make explanation videos. These aren't whiteboard animation videos like doodly. Toonly is very economical since it allows the creator to get amazing results by making uncomplicated videos that indicated the presence of how to do something, promotion for a service or product, and so on. It is a wonderful software that requires no coding or animation skills, so anyone with a creative mind may make magic on the screen, resulting in an excellent video animation. You may produce videos by selecting from a library of pre-made characters, objects, and music. You may also import your photos, whether they be background images, people, or objects, into Toonly. This is software that is ideal for beginners. Because there is no auto-save, you must save your video regularly.
Anyway, toonly has its own set of advantages and disadvantages, and it certainly appeals to those searching for a quick, inexpensive, and simple solution to produce some basic videos to showcase, teach, advertise, or explain a topic to an audience.
Benefits of using Toonly
Without any prior expertise, it is difficult to make animator explainer videos on your own. Hiring a team of designers or freelancers may also be costly. Having this software allows you to make the videos you want with the improvements you desire. If something doesn't turn out the way you want it to, you can always go back and alter it until it does. Explainer videos, as we all know, are fantastic since people like to watch the video rather than read a lot of text. Another significant advantage of using Toonly is that you will have total control over your animations. When you hire a freelancer or a developer, you may be dissatisfied if their work falls short of your expectations. The music, tone, style, movement, and characters all contribute to a one-of-a-kind experience for your audience. You will have complete control over everything since you will be able to shop around and experiment with the software until your demands are met. There's nothing else like it.
Features
You will have access to a large number of custom photos that are not stock photographs. The photos are one-of-a-kind and cannot be seen anywhere else on the internet.
It is really simple to use and understand; no advanced design or technology abilities are required. Toonly tutorials will assist you in getting started straight away.
When you acquire the software, you do not need to purchase licenses for additional computers. Toonly for business allows you to install it on an unlimited number of PCs.
It's simple to save and export files, making it simple to share on social media and publish on your website.
If you are not pleased with the service, they will refund your money within 30 days.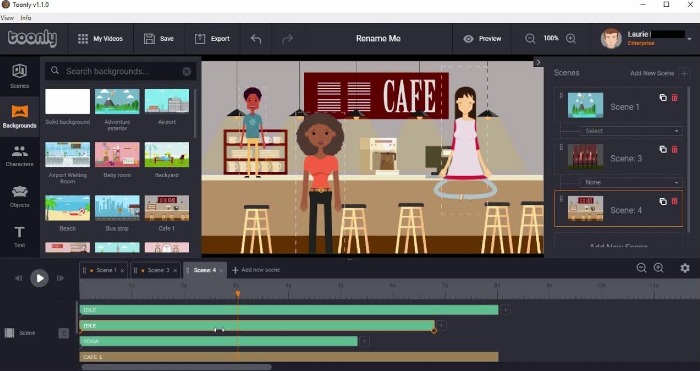 How does Toonly work?
All you need to do to get started is select a backdrop or scenario. Toonly is incredibly easy to use and spontaneous. If you're not sure where to begin, start with a scene that has previously been used; you simply need to add some changes. Drag and drop the pictures, people, and music you wish to add to the video from there. You may even record a voiceover and incorporate it into the video. When you're through with the video and have approved it, you may easily save and export it to your preferred place.
Pros of Toonly
Toonly is one of the most user-friendly software.
It includes a plethora of pictures and audios to pick from, as well as regular service updates.
And with each update, there are additional features, audios, and images.
Toonly is also less expensive than the vast majority of its competitors.
Toonly's pricing is clear and conventional, with affordable choices.
Toonly also has a 30-day money-back guarantee, so you may try it risk-free.
It's as straightforward as they come, with drag-and-drop functionality that makes it a breeze to use.
Cons of Toonly
There is no free trial option, but because they provide a money-back guarantee, it is rather risk-free.
There are no custom animation choices with toonly; you must select from the animations provided. As a result, you are restricted to static pictures.
Who can use Toonly
Toonly may be used by anybody to make animated explanation videos. Here are some instances of businesses and sectors that are using it to create and expand their businesses.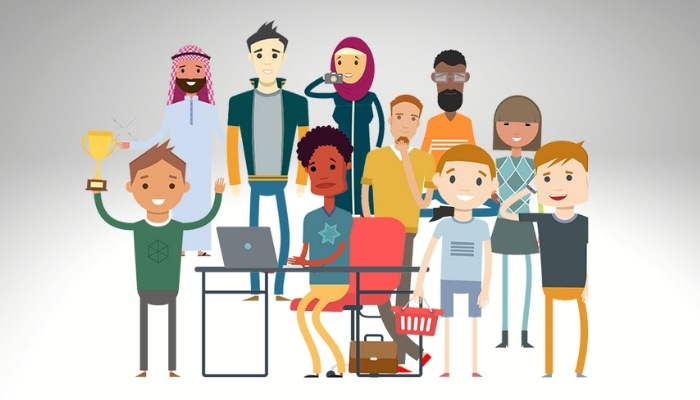 Owners of small businesses
Digital marketing and e-commerce
Content marketing and blogging
Onboarding and human resources
Sales
Toonly Pricing
The standard plan is $39 per month, while the enterprise plan is $69 per month. You can view the complete list of features included with each plan by visiting the official website. Overall, it represents a good return on investment.
Conclusion
Overall, Toonly has a lot to offer its clients. The software is extremely user-friendly and straightforward to use. Based on hands-on evaluation and feedback from other customers, this is one of the greatest animation software packages on the market. It has a plethora of features that will result in some ground-breaking results. You don't need any prior expertise to begin using Toonly, and if you find any elements challenging, there are a dozen training videos available to assist you. Although the price is somewhat more, it is well worth the money because it has a plethora of personalization options, backgrounds, and animations.
So, if you want to produce explainer videos, there aren't many better alternatives than Toonly. It is also less expensive than the bulk of its competitors. So, sign up for toonly today and start making amazing animated videos.