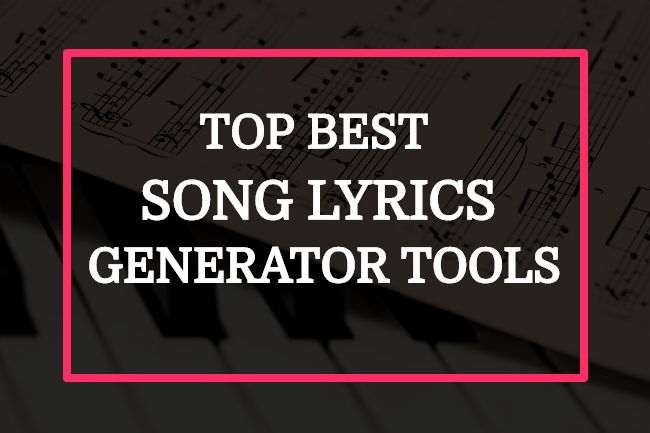 Lyrics and songs are inextricably related to each other. Lyrics are basically words that consist of choruses and verses. Without proper lyrics, a song becomes meaningless and it is a very difficult thing to write attractive as well as unique lyrics for different songs. Besides, songs related to different genres require different type of lyrics that elaborate exactly what the situation demands. It is a fact that writing proper and meaningful lyrics is not everyone's cup of tea. Therefore, we have added best song lyrics generator tools in this article for solving this problem. The links of these sites are given below:
The 06 Best Song Lyrics Generator Tools for 2020
Here's a list of best song lyrics generators that you can try.
1. Song-lyrics-generator.org.uk
It is one of the best song lyrics generator tools. The site has an automated keyword picker that will help you to make a freestyle song of your own. Besides, you can use your own keywords for generating song lyrics. The site is very rich in features. Here, you can select the length, chorus and subject-tone for your song. Along with these, you can choose the genre of the title, narrative viewpoint. The outputs are really amazing and so you do not have to worry for that. Finally, it must be said that if you want to make best lyrics for your song, you must visit this site.
2. Anticulture.net
Anticulture is another lyrics generator tool that will help you to make your lyrics without spending a lot of time. It is a kind of random lyrics generator and here, you just have to tap on 'random art' to get your random lyrics. Along with it, the site also offers comic generator, image generator, linguistic tools etc. Therefore, the site is useful not only for generating lyrics but also for making other contents.
3. Songlyricsgenerator.com
Songlyricsgenerator.com is a very good site for song lyrics. It aspires the songwriters in the most artistic as well as easiest way. The interface of this site is very simple and user-friendly. The most important aspect of this site is that users do not have to create any account for writing song lyrics. They just have to tap on 'write a song' and then with the help of song lyrics generator, songwriters can express their artistic creativity through songs. They can even share their songs directly from the site. The good part of this site is that it allows you to read other member's songs. It is very useful for newcomers as it fosters their creativity.
4. Lyrics.com
Lyrics.com is an online song lyrics generator which is quite similar to other sites. But, if you are looking for a site that will instantly generate lyrics for personal occasions like marriage anniversary and birthday, this site will be a perfect option. Here, you can easily create cool songs, rap through using keywords of your own. The site also lets you select title for your song. You also have to put your email address in the 'email address' section so that the site can send your newly generated lyrics on your mail address.
5. http://www.songlyricsgenerator.com/
Conclusion:
In conclusion, it may be said that these are some best song lyrics generators and these sites will surely help to uplift your artistic creativity. We would also recommend not to simply copy and paste these lyrics. You should rather consider these as inspirational tools.
You might also read some related articles: